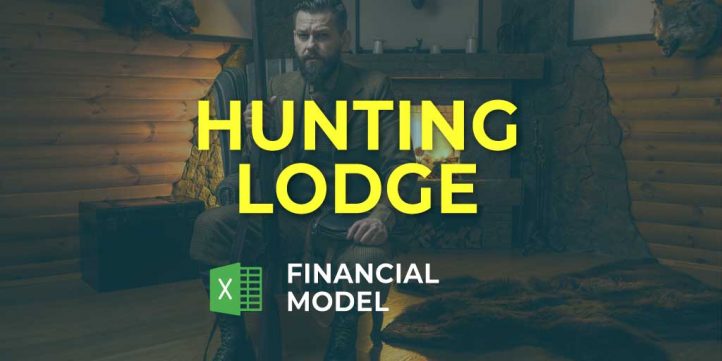 Financial Model, Hospitality
5-year financial projections, Business Valuation, Financial Model, Financial Modeling, Financial Projection, Financial Projections, Free Financial Model Templates, Pro-Forma, Startup Financial Models, Three Statement Model | Three Financial Statements
NOTE: Single-User pertains to a limited Single User License where the template can only be used by one single user; while Multi-User is a license for users sharing the template with up to 20 members. Please refer to Terms of Use and License and Permitted Use for clarification.
HUNTING LODGE 3 WAY FORECAST MODEL KEY FEATURES
Video tutorial:
Plan for Future Growth
Cash Flow Statement For 5 Years can help you plan for future growth and expansion. No matter you're extending your company with new employees and need to take into account increased staff expenses. Or to scale production to keep up with increased sales, future projections help you see accurately where you're running — and how you'll get there. Forecasting is also a well-known goal-setting framework to help you plan out the financial steps your company has to take to reach targets. There's power in Statement Of Cash Flows and the insight they can provide your business. Fortunately, this competitive advantage comes with little effort when you use the Startup Cash Flow Projection.
Integrated Model to convince Investors
Financial Projection Model Template includes and connects everything (assumptions, calculations, outputs) and presents it in an investor-friendly, deal-proven way.
Spot problems with customer payments
Preparing the Cash Flow Statement For 5 Years encourages the business to look at how quickly customers are paying their debts. Identify unpaid invoices and take necessary actions to make them pay.
Convenient, All-In-One Dashboard
Includes all required forecasting reports, including assumptions, income statement projection, cash flow statement forecast, balance sheets, performance reviews and summaries for months and years (incl. numerous graphs and KPIs).
Build your plan and pitch for funding
Impress bankers and investors with a proven, solid hunting lodge financial model that impresses every time.
5 years forecast horizon
Generate fully-integrated Hunting Lodge Pro Forma Template Excel for 5 years (on a monthly basis). Automatic aggregation of annual summaries on outputs tabs.
REPORTS and INPUTS
Top Expenses
The Top expenses tab of the Hunting Lodge Pro Forma Template reflects your company's annual expenses, both total and grouped by four categories.
This Pro Forma provides an overview of annual expenses on customer acquisition, COSS placeholders, wages & salaries, fixed and variable expenses, and all other expenses.
Liquidity KPIs
Liquidity Position. The liquidity position of a company is an essential indication of the financial health of the enterprise. To assess the liquidity position of the company, it is necessary to calculate the liquidity ratio. Many companies set a target liquidity ratio that reflects the specifics of their business and industry. Such target liquidity ratios ensure that companies have enough cash to meet their obligations. Therefore, we recommend setting a target liquidity ratio for your Profit Loss Projection.
Profitability KPIs
Gross profit margin. A gross profit margin is a frequently used financial ratio that is one of the main indicators of a company's financial health. It reflects the difference between the revenues and the cost of sales. When the gross profit margin is improving, it means that the company's expenses related to the sale of goods or services are decreasing and/or revenues from such sales are increasing. A gross profit margin is usually reflected as percentage.
Cash Flow KPIs
Cash balance. The cash balance shows the total amount of money in a financial account of the company. Any company needs to hold in reserve enough amount of cash to meet current obligations.
Burn and Runway
This Hunting Lodge Pro Forma Projection automatically calculates the cash burn rate based on the inputs from other spreadsheets, in particular, from the cash flow projection.
Financial KPIs
A Hunting Lodge Excel Financial Model Template outputs include both company and sector-specific key performance indicators KPIs. These KPIs include profitability metrics, cash flow metrics, and liquidity metrics. It also has KPIs crucial for the attraction of investments.
Sources and Uses
Sources and uses statement is a part of our Hunting Lodge Pro Forma Budget. It shows the company's stakeholders where all the fund sources for a company come from.
This statement also shows how the company uses these funds.
File types:
Excel – Single-User: .xlsx
Excel – Multi-User: .xlsx
Free Demo – .xlsx