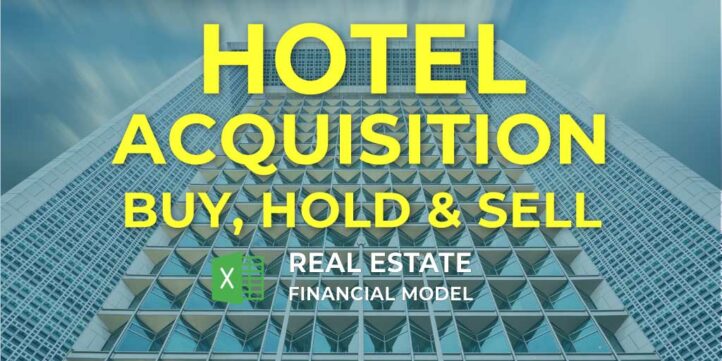 Commercial Properties, Financial Model, Investment, Real Estate
10-year financial projections, Break-Even, Business Valuation, Cap Rate (Capitalization Rate), Cash Flow Analysis, Cash Flow Projections, Cash on Cash Yield, Cash-on-Cash Multiple, DCF Model, Excel, Financial Feasibility, Financial Model, Financial Modeling, Financial Planning, Financial Projection, Financial Projections, Financial Statements, Forecast, Forecasting, Investment Multiple, Investor Cash Flows, Investors, KPIs (Key Performance Indicators), Price Per Room, Private Equity Waterfall Distribution Models, Pro-Forma, Profitability Analysis, Property Appraisals, Property Valuation, Real Estate Valuation, Revenue Projections, ROI, Scenario Analysis, Sensitivity Analysis, Terminal Value, Three Statement Model | Three Financial Statements, Uses and Sources of Funds, Valuation
NOTE: Single-User pertains to a limited Single User License where the template can only be used by one single user; while Multi-User is a license for users sharing the template with up to 20 members. Please refer to Terms of Use and License and Permitted Use for clarification.
HOTEL ACQUISITION REFM THREE WAY FINANCIAL MODEL KEY FEATURES
Video tutorial:
Great Value for Money
Use a robust and proven Hotel Acquisition REFM Budget Spreadsheet based on years of experience at an affordable price. This 3 way financial model has a one-off payment and absolutely no hidden fees or monthly payments.
We do the math
Financial Projection Template has all the required features ready with no formula writing, no formatting, no programming, no charting, and no expensive external consultants! Concentrate on the task of planning rather than programming.
Key Metrics Analysis
Creates 5-year Hotel Acquisition REFM Financial Projection Model Template, proforma, financial statements, and financial ratios in GAAP or IFRS formats on the fly.
Update anytime
With 3 Way Forecast you can easily adjust inputs at the launch stage and throughout the further activities of your store to refine your forecast.
Works for startups
Financial Projection Template creates a financial summary formatted for your pitch deck
Gaining trust from stakeholders
Investors and financing providers tend to think in terms of the big picture. They want the c-level of the companies they invest in to do the same to ensure they maintain a clear idea of the future. Providing stakeholders with a monthly cash flow projection will demonstrate a level of awareness that leads to confidence and trust and will make it easier to raise more investment.
REPORTS and INPUTS
Profitability KPIs
Gross profit margin. A gross profit margin is a frequently used financial ratio that is one of the main indicators of a company's financial health. It reflects the difference between the revenues and the cost of sales. When the gross profit margin is improving, it means that the company's expenses related to the sale of goods or services are decreasing and/or revenues from such sales are increasing. A gross profit margin is usually reflected as percentage.
Break Even
This Hotel Acquisition REFM Financial Projection Excel has a template for a break even point analysis. This financial instrument helps users identify when the revenue of the company starts exceeding its total cost. This is the time point when the project under consideration or a company as a whole will start generating profits. Studying the relationship between the company's revenue and its fixed and variable costs is crucial for its success.
The break-even point calculation helps the company's management determine the necessary level of sales and product price that will cover the total cost of business, i.e., fixed and variable costs. It shows users how to calculate the time point when a company is expected to make a profit.
All in One Place
A well-developed and easy-to-use Budget Financial Model. You do not to be a financial expert to design your start-up Financial Projection Model Template. Everything you need is the right set of financial tools, and our Hotel Acquisition REFM Three Way Financial Model will give you them.
Costs
Our Hotel Acquisition REFM Financial Projection Model has a well-developed methodology for creating a cost budget. You can plan and forecast your costs from operations and other expenses for up to 72 months. The cost budget has a detailed hiring plan while also automatically handling the expenses' accounting treatment. You can set salaries, job positions, and the time of hiring.
Moreover, the model allows users to calculate hiring as the company scales automatically. Pre-built expense forecasting curves enable users to set how an expense changes over time. These pre-built options include % of revenues, % of salaries, % of any revenue category, growth (or decline) rates that stay the same or change over time, ongoing expenses, expenses that periodically reoccur, expenses that regularly change, and many more. Costs can be allocated to key expense areas and labeled for accounting treatment as SG&A, COGS, or CAPEX.
Dashboard
A financial dashboard in this Hotel Acquisition REFM Financial Projection Model is a useful financial management tool. It helps track all your relevant finance key performance indicators (KPIs), assures effective cash management, and enables financial management to track expenses, sales, and profits in detail to meet and outperform a department or company's financial objectives.
Cash Flow KPIs
Operating cash flow. Operating cash flow calculation shows how much cash the company generates from the business operations. This calculation does not include secondary sources of revenue, like interest or investments.
Financial KPIs
In the Financial Projection you can visually track your key financial indicators (KPIs) for 24 months and up to five years.
The model all KPIs you might need for your company:
– EBITDA/EBIT shows your company's operational performance;
– CASH FLOWS show your company's inflows and outflows;
– CASH BALANCE this is the forecast of cash in hand you will have.
File types:
Excel – Single-User: .xlsx
Excel – Multi-User: .xlsx
Free Demo – .xlsx