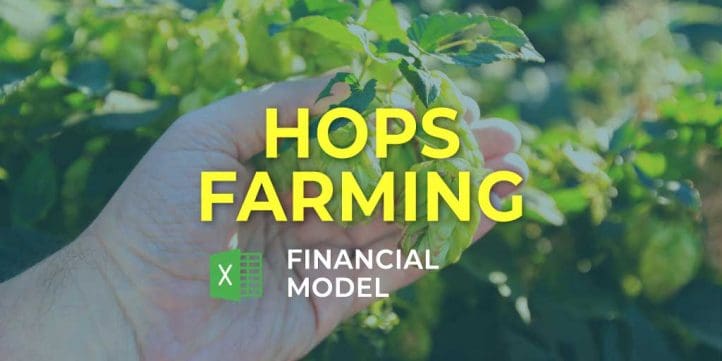 Agriculture, Financial Model
5-year financial projections, Business Valuation, Financial Model, Financial Modeling, Financial Projection, Financial Projections, Free Financial Model Templates, Pro-Forma, Startup Financial Models, Three Statement Model | Three Financial Statements
NOTE: Single-User pertains to a limited Single User License where the template can only be used by one single user; while Multi-User is a license for users sharing the template with up to 20 members. Please refer to Terms of Use and License and Permitted Use for clarification.
HOPS FARMING CASH FLOW PROFORMA KEY FEATURES
Video tutorial:
Manage surplus cash
Most companies don't have excess cash in the bank. It is a well-known situation. But managing surplus cash for reinvestment in new market opportunities, or debt repayments can be essential to keeping stay in the business. Managers are entirely ready to plan for what to do with the cash surplus if they have the forecast of when and where the business will have surplus cash in the bank account. Projected Cash Flow Statement will provide supplementary guidance on what to do with a cash surplus.
5 years forecast horizon
Generate fully-integrated Hops Farming 3 Way Forecast Excel Template for 5 years (on a monthly basis). Automatic aggregation of annual summaries on outputs tabs.
Confidence in the future
Using our financial model, you can effectively plan, prevent risks, manage stocks and Cash Flow Pro Forma and foresee your prospects for the next 5 years.
Save time and money
Via 3 Way Forecast you can without effort and special education get all the necessary calculations and you will not need to spend money on expensive financial consultants. Your task is building a strategy, evolution, and creativity, and we have already done the routine calculations instead of you.
Generate growth inspiration
By running various scenarios and looking at the effects they could have on your cash balance, you will begin to see which options are best for your business. Ones that are possible, and what is involved in making them work. Organic growth isn't the only option – there are growing funding options becoming available, and Startup Cash Flow Projection could be a way of looking at the impact an injection of cash could have on your business and its growth plans.
Track your spending and staying within budget
Have you written a vague idea of cash inflows and cash outflows on the back of a napkin? All is well and good. Looking at the profit and loss statement proforma will give you a snapshot of the past business performance, but it won't show the future in terms of the Cash Flow Statement Projection. With a projected cash flow statement format, you can plan future cash inflows and cash outflows and compare it to the budget, which can be invaluable information.
REPORTS and INPUTS
Benchmarks
This Financial Projection Model Excel has a tab for financial benchmarking study. This study involves a financial analysis performance and comparing the company's results with other companies' financial indicators in the industry. Conduction of the financial benchmarking study helps users assess a company's overall competitiveness, efficiency, and productivity.
Operational KPIs
Our Hops Farming Financial Projection Template has various operational performance graphs that will help business owners manage their business' finances and measure their overall performance. These operational performance graphs also help in making wise business decisions that consider the company's financial capability.
The financial graphs in this Hops Farming 3 Way Forecast help measure the company's financial health showing the operating cash flows' analysis, return on investment, debt to equity ratio, liquidity ratios, and other relevant financial information. Business owners can use these operational performance graphs both for internal and external purposes.
In particular, they can use these graphs to assess the company's overall financial performance or for the assessment of the project's financial feasibility. Such an approach will improve the financial management efficiency of the company. Business owners can also use these charts and graphs for the presentations for potential investors and bankers. The operational performance graphs have all the necessary pre-built formulas, and they are fully formatted. So, the users can just print out them and bring for the meeting with investors.
Break Even
The breakeven analysis (BEA) is a useful financial tool that helps companies study the relationship between fixed and variable costs and revenue. This analysis calculates the break-even point (BEP), indicating when an investment in the start-up will generate a positive return.
Our Hops Farming Financial Projection Template represents the break even point analysis graphically and as a mathematical calculation. It calculates the required sales volume at a certain sales price that will cover its overall costs.
Cap Table
A Cap table is a critical spreadsheet for any start-up company that shows all the company's shares, who owns them, and the investors' prices for these shares. The Pro Forma Projection (cap table tab) also reflects each investor's percentage of ownership in the company and its dilution.
Valuation
With our Hops Farming Budget Spreadsheet, you will get proformas for valuation analysis. You will be able to perform a Discounted Cash Flow (DCF) valuation analysis and other valuations you may need.
CAPEX
CapEx is important both for the start-ups and actively growing companies that put their efforts in investing in a new property, plant, and equipment (PP&E), as well as new products and new technologies. Such capital expenditures usually make a significant part of the company's expenditures; therefore, financial analysts and investors pay close attention to this financial report.
The company should reflect its capital expenditures in the Balance Sheet, and this type of expenditure does not significantly impact cash flows.
Dashboard
A financial dashboard in this Hops Farming Three Statement Financial Model Template is a useful financial management tool. It helps track all your relevant finance key performance indicators (KPIs), assures effective cash management, and enables financial management to track expenses, sales, and profits in detail to meet and outperform a department or company's financial objectives.
File types:
Excel – Single-User: .xlsx
Excel – Multi-User: .xlsx
Free Demo – .xlsx