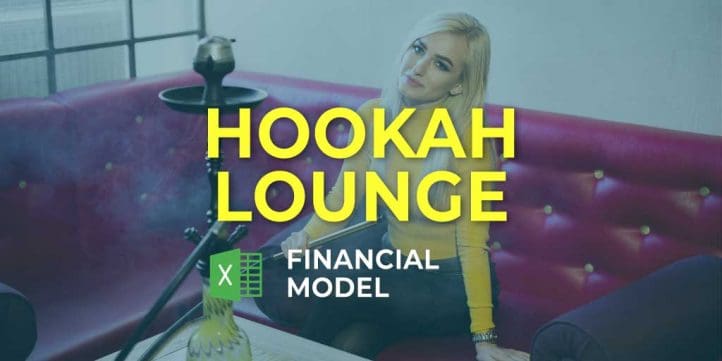 NOTE: Single-User pertains to a limited Single User License where the template can only be used by one single user; while Multi-User is a license for users sharing the template with up to 20 members. Please refer to Terms of Use and License and Permitted Use for clarification.
HOOKAH LOUNGE PROFIT LOSS PROJECTION KEY FEATURES
Video tutorial:
Spot problems with customer payments
Preparing the Cash Flow Statement Forecast encourages the business to look at how quickly customers are paying their debts. Identify unpaid invoices and take necessary actions to make them pay.
Works for startups
Financial Projection creates a financial summary formatted for your pitch deck
Print-ready Reports
Solid package of print-ready reports, including a profit and loss pro forma, cash flow statement forecast, a balance sheet, and a complete set of financial ratios.
All necessary reports
When creating a Hookah Lounge Excel Pro Forma Template, you will not need to independently prepare financial reports and study the requirements for them. Our Excel template contains all the necessary reports and calculations that correspond with the lenders demand.
Convenient, All-In-One Dashboard
Includes all required forecasting reports, including assumptions, p&l projection, cash flow projection, balance sheets, performance reviews and summaries for months and years (incl. numerous graphs and KPIs).
Generate growth inspiration
By running various scenarios and looking at the effects they could have on your cash balance, you will begin to see which options are best for your business. Ones that are possible, and what is involved in making them work. Organic growth isn't the only option – there are growing funding options becoming available, and Cash Flow Forecast could be a way of looking at the impact an injection of cash could have on your business and its growth plans.
REPORTS and INPUTS
Profitability KPIs
Revenue breakdown. The Hookah Lounge Financial Model has a revenue breakdown proforma in the form of a chart. It shows the revenue from five products monthly. If needed, you can add more products or change the period for financial analysis.
Top Revenue
This Pro Forma Template Excel has a tab for a detailed analysis of the company's revenue streams. With this template, users can analyze the revenue streams by each product or service category separately.
Liquidity KPIs
Accounts receivable turnover (ART). In the Three Statement Financial Model Template, the accounts receivables turnover ratio (ART) calculates a metric that assesses a company's effectiveness in collecting its receivables. This ratio shows how successful the company is in managing its debts.
Break Even
A break even formula excel is a financial tool that helps a company to determine the time and the development stage at which the company as a whole, or its new product, become profitable. This Hookah Lounge Financial Model In Excel Template helps determine the company's sales volume to cover its costs (particularly fixed and variable costs).
Sources and Uses
Sources and uses statement is a part of our Hookah Lounge Five Year Financial Projection Template. It shows the company's stakeholders where all the fund sources for a company come from.
This statement also shows how the company uses these funds.
Performance KPIs
Payback period. The cost of acquiring new customers should be compared to the profits that these customers generate. When these two numbers are divided, the result is called a payback period.
All in One Place
This Hookah Lounge Excel Pro Forma is key for investors. You will need a Financial Projection to validate how much money you need to start-up with and how much your investor can make on this investment. Remember that investors are not tolerant to start-ups that do not have a business plan or a Financial Model.
File types:
Excel – Single-User: .xlsx
Excel – Multi-User: .xlsx
Free Demo – .xlsx