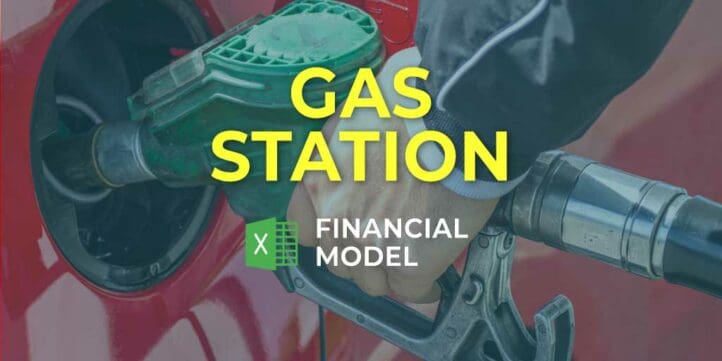 Financial Model, Gas Stations, Retail
5-year financial projections, Break-Even, Budget, Budgeting, Business Valuation, Cap Table, Cash Flow Analysis, Cash Flow Projections, Cost Calculation, Cost Projections, DCF Model, Debt Amortization, Debt Schedule, Excel, Financial Debt, Financial Feasibility, Financial Model, Financial Modeling, Financial Planning, Financial Projection, Financial Projections, Financial Reporting, Financial Statements, Forecast, Forecasting, Free Financial Model Templates, Investor Cash Flows, KPIs (Key Performance Indicators), Pro-Forma, Profitability Analysis, Revenue Projections, Startup Financial Models, Terminal Value, Three Statement Model | Three Financial Statements, Valuation, WACC (Weighted Average Cost of Capital)
NOTE: Single-User pertains to a limited Single User License where the template can only be used by one single user; while Multi-User is a license for users sharing the template with up to 20 members. Please refer to Terms of Use and License and Permitted Use for clarification.
GAS STATION FINANCIAL PROJECTION MODEL TEMPLATE KEY FEATURES
Video tutorial:
Spot problems with customer payments
Preparing the Startup Cash Flow Projection encourages the business to look at how quickly customers are paying their debts. Identify unpaid invoices and take necessary actions to make them pay.
Track your spending and staying within budget
Have you written a vague idea of cash inflows and cash outflows on the back of a napkin? All is well and good. Looking at the pro forma p&l statement will give you a snapshot of the past business performance, but it won't show the future in terms of the Cash Flow Pro Forma. With a projected cashflow statement, you can plan future cash inflows and cash outflows and compare it to the budget, which can be invaluable information.
Investors ready
Print ready (including a projected p&l statement, a Cashflow Forecast, a balance sheet, and a complete set of financial ratios).
Gaining trust from stakeholders
Investors and financing providers tend to think in terms of the big picture. They want the c-level of the companies they invest in to do the same to ensure they maintain a clear idea of the future. Providing stakeholders with a monthly statement of cash flows will demonstrate a level of awareness that leads to confidence and trust and will make it easier to raise more investment.
All necessary reports
When creating a Gas Station Cashflow Projection, you will not need to independently prepare financial reports and study the requirements for them. Our Excel template contains all the necessary reports and calculations that correspond with the lenders demand.
Get a robust, powerful financial model which is fully expandable
This well-tested, robust and powerful Gas Station Financial Projection is your solid foundation to plan gas station business model. Advanced users are free to expand and tailor all sheets as desired, to handle specific requirements or to get into greater detail.
REPORTS and INPUTS
Top Revenue
The top line and bottom line are two of the most important lines on a company's profit and loss statement. Investors and analysts pay special attention to the company's revenue and profits and carefully monitor any changes regarding these financial metrics from quarter to quarter and year to year.
The top line of the forecasted income statement refers to a company's revenues or gross sales. Therefore, when somebody says that the company has 'top-line growth,' it means that the company is experiencing an increase in gross sales or revenues, which should positively impact other company's financials and overall performance.
Cash Flow KPIs
Cash balance. The cash balance shows the total amount of money in a financial account of the company. Any company needs to hold in reserve enough amount of cash to meet current obligations.
Top Expenses
In the Top expenses section of our Gas Station Pro Forma Projection, you can track your more significant expenses divided into four categories. The model also has an 'other' category, and you can expand or change this table according to your needs.
You can reflect your company's historical data or make a Pro Forma for the five years.
Sources and Uses
The Cash Flow Proforma Template Sources and Uses (or so-called S&U) statement shows the stakeholders how the company plans to finance its project or overall business activities and where the capital will go.
The Sources and Uses of cash statement's primary rule is that the funds' sources must balance with the combined uses. This report can have a basic format, or you can extend it and change it in a way that fits best with your company's needs.
In the Sources part of the statement, the business owner should mention the funding sources on a line-by-line basis. Similarly, the Uses section should reflect on a line-by-line basis the company's plan on how to use these funds.
Ideally, the Sources and Uses section of this statement should match, or the Sources section should be bigger.
If the Sources section is bigger than the Uses section, it means that the company has more funds than it needs for the current business activities. In this case, the company may plan an extension of the business or other cash flow distribution ways.
Otherwise, if the Uses section is bigger than the Sources section, it means that the company requires additional equity.
Profitability KPIs
Revenue breakdown. The Gas Station Financial Projection Model Excel has a revenue breakdown proforma in the form of a chart. It shows the revenue from five products monthly. If needed, you can add more products or change the period for financial analysis.
Costs
Our Gas Station Cash Flow Proforma Template has a well-developed methodology for creating a cost budget. You can plan and forecast your costs from operations and other expenses for up to 72 months. The cost budget has a detailed hiring plan while also automatically handling the expenses' accounting treatment. You can set salaries, job positions, and the time of hiring.
Moreover, the model allows users to calculate hiring as the company scales automatically. Pre-built expense forecasting curves enable users to set how an expense changes over time. These pre-built options include % of revenues, % of salaries, % of any revenue category, growth (or decline) rates that stay the same or change over time, ongoing expenses, expenses that periodically reoccur, expenses that regularly change, and many more. Costs can be allocated to key expense areas and labeled for accounting treatment as SG&A, COGS, or CAPEX.
Break Even
The break even excel (BEA) is a useful financial tool that helps companies study the relationship between fixed and variable costs and revenue. This analysis calculates the break-even point (BEP), indicating when an investment in the start-up will generate a positive return.
Our Gas Station Excel Financial Model Template represents the breakeven analysis graphically and as a mathematical calculation. It calculates the required sales volume at a certain sales price that will cover its overall costs.
File types:
Excel – Single-User: .xlsx
Excel – Multi-User: .xlsx
Free Demo – .xlsx