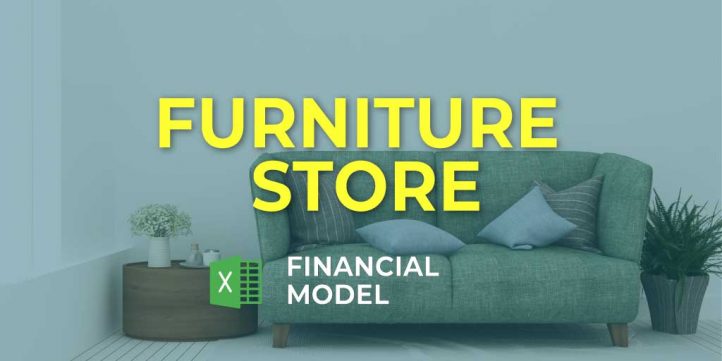 NOTE: Single-User pertains to a limited Single User License where the template can only be used by one single user; while Multi-User is a license for users sharing the template with up to 20 members. Please refer to Terms of Use and License and Permitted Use for clarification.
FURNITURE STORE THREE STATEMENT FINANCIAL MODEL KEY FEATURES
Video tutorial:
Simple and Incredibly Practical
Simple-to-use yet very sophisticated Furniture Store Financial Projection Excel tool. Whatever size and stage of development your business is, with minimal planning experience and very basic knowledge of Excel you can get complete and reliable results. Additionally, you will receive uncompromised after-sales service and access to valuable tutorial videos and blog posts.
Prove You Can Pay Back the Loan You Requested
When you apply for a business loan, bankers will study your Projected Cashflow Statement in an attempt to answer this question: Can this business pay back the loan? Requesting a loan without showing your Projected Cash Flow Statement Format for paying it back is a common way to land in the rejection pile. It is exceptionally accurate if your current cash flow won't cover all of your monthly operating expenses — plus your loan payment. Don't fall into this kind of situation. Use Pro Forma Cash Flow Projection to strengthen your case by showing the banker exactly how you plan to use the loan and when you will start repaying the debt. This type of forecasting helps you create a road map that can impress a lender with the confidence they need to approve your loan.
Predict the Influence of Upcoming Changes
Does your company plan to purchase new equipment or to launch a new product? Startup Cash Flow Projection enable you to obtain a complete picture of the effect that specific changes will have on your Cash Flow Statement Forecast. When planning your finances in the Cash Flow Statement By Month, you will forecast cash inflows and outflows based on future invoices, bills due, and payroll. You can then create multiple 'what if' scenarios, such as buying new equipment to choose the best way for you. Forecasting shows you how the upcoming changes will affect your cash balance.
Key Metrics Analysis
Creates 5-year Furniture Store 3 Way Forecast Model, proforma, financial statements, and financial ratios in GAAP or IFRS formats on the fly.
Better decision making
Make better operational decisions with the help of creating Cashflow Forecast scenarios in your Excel Template. Perhaps you have to choose between new staff members or investment in equipment, and you are wondering which decision to chose. Variants forecasting will give you the information you need to make these decisions with confidence that you know what impact they will have on your cash balance.
Currency for inputs and denomination
In Excel Pro Forma Template define any currency code or symbol and preferred denomination (e.g. 000s) to reflect your preferences.
REPORTS and INPUTS
Financial KPIs
With the help of the financial key performance indicators (KPIs), you can track your company's performance and improve its financial health. This Furniture Store Three Statement Financial Model Template allows showing the key performance indicators in the form of charts.
All in One Place
Our integrated Furniture Store Three Statement Financial Model Template includes and connects everything you need for investors' meeting. It has financial assumptions, proformas, calculations, cash flow forecasts, and other templates. Moreover, our Financial Projection Model Template presents it in an investor-friendly way.
Cash Flow KPIs
Operating cash flow. Operating cash flow calculation shows how much cash the company generates from the business operations. This calculation does not include secondary sources of revenue, like interest or investments.
CAPEX
Capital expenditures reflect the company's amount on long-term assets expected to bring value for more than one year. For example, the cost of a computer may be capital expenditure included in the balance sheet. In contrast, the electricity cost to run this computer is an expense included in the projected p&l statement
.
All long term assets have a useful life, and part of the cost of the asset is written off each year to the forecasted income statement as an expense. Users can find these expenses in the profit and loss statement proforma under the heading of depreciation. The depreciation expense amount reduces the value of the asset shown in the balance sheet for the year.
Simultaneously, the CAPEX report shows the company's stakeholders the full picture of the company's expenditures on assets.
Operational KPIs
Our Furniture Store Excel Financial Model has various operational performance graphs that will help business owners manage their business' finances and measure their overall performance. These operational performance graphs also help in making wise business decisions that consider the company's financial capability.
The financial graphs in this Furniture Store Financial Projection Excel help measure the company's financial health showing the operating cash flows' analysis, return on investment, debt to equity ratio, liquidity ratios, and other relevant financial information. Business owners can use these operational performance graphs both for internal and external purposes.
In particular, they can use these graphs to assess the company's overall financial performance or for the assessment of the project's financial feasibility. Such an approach will improve the financial management efficiency of the company. Business owners can also use these charts and graphs for the presentations for potential investors and bankers. The operational performance graphs have all the necessary pre-built formulas, and they are fully formatted. So, the users can just print out them and bring for the meeting with investors.
Costs
Start-up costs are an essential part of any Three Statement Financial Model Template. They begin to accrue before actual operations start, so it is crucial to monitor them early to avoid overspendings and underfunding. Our Furniture Store Pro Forma Projection has the proforma for start-up costs that show both funding and expenses. You can use this proforma to monitor your expenses and create cost budgets.
Sources and Uses
This Furniture Store Three Statement Financial Model Template has a Sources and Uses template. This tab shows users the company's funding structure and sources and uses of these funds.
File types:
Excel – Single-User: .xlsx
Excel – Multi-User: .xlsx
Free Demo – .xlsx