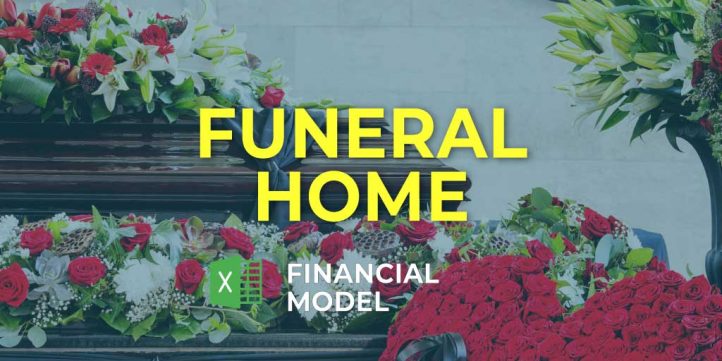 NOTE: Single-User pertains to a limited Single User License where the template can only be used by one single user; while Multi-User is a license for users sharing the template with up to 20 members. Please refer to Terms of Use and License and Permitted Use for clarification.
FUNERAL HOME FINANCIAL MODEL IN EXCEL KEY FEATURES
Video tutorial:
Great Value for Money
Use a robust and proven Funeral Home Financial Model Excel based on years of experience at an affordable price. This financial model in excel has a one-off payment and absolutely no hidden fees or monthly payments.
All necessary reports
When creating a Funeral Home Cashflow Projection, you will not need to independently prepare financial reports and study the requirements for them. Our Excel template contains all the necessary reports and calculations that correspond with the lenders demand.
We do the math
Excel Pro Forma has all the required features ready with no formula writing, no formatting, no programming, no charting, and no expensive external consultants! Concentrate on the task of planning rather than programming.
Prove You Can Pay Back the Loan You Requested
When you apply for a business loan, bankers will study your Cash Flow Projection in an attempt to answer this question: Can this business pay back the loan? Requesting a loan without showing your Cashflow Forecast for paying it back is a common way to land in the rejection pile. It is exceptionally accurate if your current cash flow won't cover all of your monthly operating expenses — plus your loan payment. Don't fall into this kind of situation. Use Projected Cash Flow Statement to strengthen your case by showing the banker exactly how you plan to use the loan and when you will start repaying the debt. This type of forecasting helps you create a road map that can impress a lender with the confidence they need to approve your loan.
Convenient, All-In-One Dashboard
Includes all required forecasting reports, including assumptions, pro forma income statement, cashflow forecast, balance sheets, performance reviews and summaries for months and years (incl. numerous graphs and KPIs).
Easy to follow
Clear and transparent Funeral Home Five Year Financial Projection Template structure (15+ separate tabs, each focusing on a specific planning category, colour coded => input, calculation and report sheets).
REPORTS and INPUTS
All in One Place
This Funeral Home Three Statement Financial Model is key for investors. You will need a Excel Pro Forma Template to validate how much money you need to start-up with and how much your investor can make on this investment. Remember that investors are not tolerant to start-ups that do not have a business plan or a Financial Projection Excel.
Break Even
A excel break even formula tab in this Financial Model shows the excel break even formula. This calculation illustrates when your company is supposed to become profitable. In other words, a breakeven analysis indicates when the company's overall revenues exceed its expenses.
Performance KPIs
Return on capital. The return on capital reflects the correspondence of the Balance Sheet and Income Statement. Return on capital measures the accomplishment of earnings to the capital employed.
Companies with good financial management have good returns.
Top Revenue
When the company's management starts to make a Profit Loss Projection, revenue is the most crucial component in the Excel Financial Model Template. Revenue is one of the main drivers of the enterprise's value in the Pro Forma Template Excel. That is why financial analysts must pay special attention to the planning and devising the best strategy to approach modeling future revenue streams.
Revenue forecasts should also have assumptions about the growth rate based on historical financial data. Users can find all the components of wise financial planning of the revenue streams in our Funeral Home Cash Flow Format In Excel.
Financial Statements
Our Funeral Home Excel Financial Model has a pre-built integrated financial statement structure that contains all the primary financial statements (Balance sheet, pro forma income statement for startup, and statement of cash flows) and creates financial forecasts for the next five years automatically.
This integrated financial statement structure has pre-built proformas, financial and managerial reports, and financial ratios. Users can choose the presentation of financial information in GAAP or IFRS format for their convenience.
CAPEX
This Funeral Home Financial Model consist a CapEx calculation with pre-built formulas helps users calculate the volume of capital expenditures using numbers in the profit and loss statement and balance sheet.
Burn and Runway
The cash burn rate is one of the tabs your future investors may be very interested in. This metrics shows the time left to a complete cash burn. Also, this template shows a cash burn ratio. The calculation is based on your average annual cash balance and average monthly operating cash outflows.