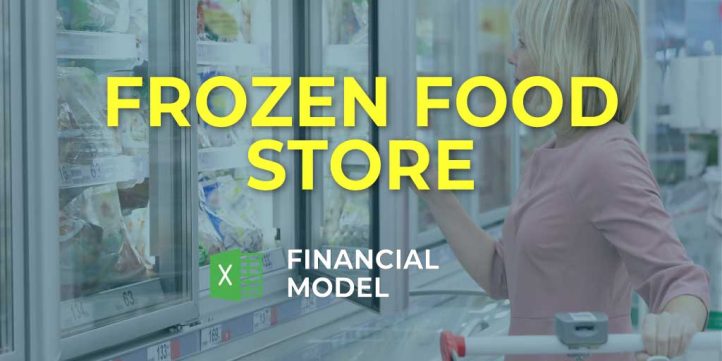 Financial Model, Retail
5-year financial projections, Business Valuation, Financial Model, Financial Modeling, Financial Projection, Financial Projections, Free Financial Model Templates, Pro-Forma, Startup Financial Models, Three Statement Model | Three Financial Statements
FROZEN FOOD STORE FINANCIAL PROJECTION TEMPLATE KEY FEATURES
Video tutorial:
Manage surplus cash
Most companies don't have excess cash in the bank. It is a well-known situation. But managing surplus cash for reinvestment in new market opportunities, or debt repayments can be essential to keeping stay in the business. Managers are entirely ready to plan for what to do with the cash surplus if they have the forecast of when and where the business will have surplus cash in the bank account. Cash Flow Statement For 5 Years will provide supplementary guidance on what to do with a cash surplus.
Spot problems with customer payments
Preparing the Cash Flow Statement Forecast encourages the business to look at how quickly customers are paying their debts. Identify unpaid invoices and take necessary actions to make them pay.
Confidence in the future
Using our financial model, you can effectively plan, prevent risks, manage stocks and Cash Flow Pro Forma and foresee your prospects for the next 5 years.
Update anytime
You can easily adjust inputs at the launch stage and throughout the further activities of your business to refine your Frozen Food Store Financial Model In Excel Template.
Build your plan and pitch for funding
Impress bankers and investors with a proven, solid frozen food store financial model that impresses every time.
External stakeholders, such as banks, may require a regular forecast.
If the business has a bank loan, the bank will ask for a Frozen Food Store Pro Forma Template Excel regularly.
REPORTS and INPUTS
Burn and Runway
The cash burn rate shows the difference between the cash inflows and cash outflows of the company. It is essential to monitor this metric because it shows how long the company will last with its current funding level. Business owners can also see a clear picture of how various business strategies change the cash burn rate.
Financial Statements
With our Financial Projection Model Excel, you can easily create an p&l proforma, a Balance Sheet, and a projected cashflow statement for your company. You can choose these statements' format and make any financial statement with a monthly or annual breakdown, or for five years.
Cap Table
In our Frozen Food Store Budget Spreadsheet, a Capitalization table, or Cap table is a spreadsheet critical for start-ups that shows the company's ownership structure. It lists your company's shares and options, if any. It also shows the prices your investors have paid for these shares and each investor's percentage of ownership in the company.
Profitability KPIs
Growth of net income. Many financial metrics can be calculated from the Frozen Food Store Finance Projection. Entrepreneurs want to see the growth of their company, and the growth of net income is one of the essential metrics that shows that the company is growing and developing. This metric means that the sales are growing and costs are managed wisely, and, respectively, the statement of profit and loss proforma shows the net income growth.
Break Even
Break Even Analysis studies the volume of sales or units the company needs to break even to cover its variable and fixed costs. This Frozen Food Store Financial Projection Model Excel helps companies determine the period when it is supposed to become profitable.
The calculation of the break-even point helps financial specialists in several ways. First of all, it shows the company's owners if this type of business is worthy of starting up. It also helps the company's managers determine the price for its products or services that will help cover all company's costs, both fixed and variable.
Benchmarks
A benchmarking study as the element of the Financial Projection is usually used to evaluate a business's performance by focusing on one or more particular indicators and comparing them with similar indicators of other companies in the industry.
In respect of the financial benchmarking study, these indicators could be profit margins, cost margins, cost per unit, productivity margins, or others. Later the company's performance indicators should be compared to that of other companies within the same industry.
Benchmarking is a useful strategic management tool, which is essential for start-ups. Companies can evaluate any economic, business, or financial metric or process and compare them to the processes of 'best practice' companies within the same field or industry.
Performance KPIs
Lead-to-client conversion rate. Lead-to-Client Conversion Rate is an essential metric for the businesses that attract new clients with the Internet, social media, and other similar channels. Leads do not turn into customers automatically. Company's sale team need to convert these leads into actual customers.
The Lead-to-Conversion business metric is a good measure of the sales team's performance. Moreover, it indicates the quality of your product. If you have a low conversion rate, it may sign that your product is not attractive to the customers.