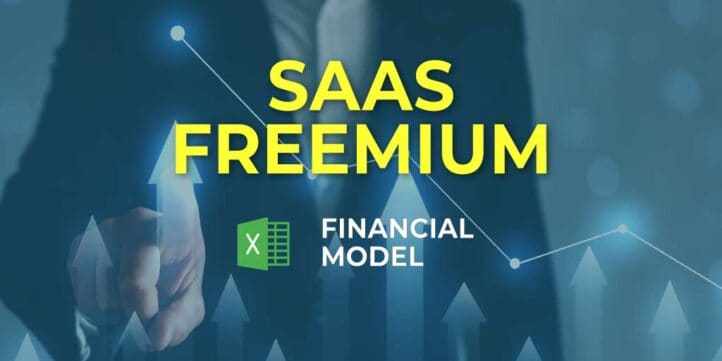 Financial Model, Online Businesses & IT, SaaS
5-year financial projections, Accounts Payable, Accounts Receivable, ARPU, Break-Even, Cash Flow Analysis, Cash Flow Projections, Churn, Cost Calculation, Cost Projections, Customer Acquisition Costs (CAC), Customer Lifetime Value, DCF Model, Debt Amortization, Excel, Financial Feasibility, Financial Model, Financial Modeling, Financial Planning, Financial Projection, Financial Projections, Financial Reporting, Financial Statements, Forecast, Forecasting, Free Financial Model Templates, Fundraising, Investment Multiple, Investor Cash Flows, NPV (Net Present Value), Post Money Valuation, Pre Money Valuation, Pro-Forma, Revenue Projections, Startup Financial Models, Three Statement Model | Three Financial Statements, Valuation
NOTE: Single-User pertains to a limited Single User License where the template can only be used by one single user; while Multi-User is a license for users sharing the template with up to 20 members. Please refer to Terms of Use and License and Permitted Use for clarification.
SAAS FREEMIUM P&L PROJECTION KEY FEATURES
Video tutorial:
Simple-to-use
A very sophisticated Saas Freemium Financial Projection Excel, whatever size and stage of development your business is. Minimal previous planning experience and very basic knowledge of Excel is required: however, fully sufficient to get quick and reliable results.
Identify cash gaps and surpluses before they happen.
Forecasting your future cash balance helps you see well in advance when you may have a cash deficit that could hurt your business. Cash Flow Pro Forma will give you enough time to take action to prevent a crisis. It will enable you to access better loan rates or speed up incoming payment to bridge the gap. On the other side, if you know ahead of time that the large lump of cash will lay in your bank account within the next three months. In this case, you might need to explore options to reinvest it in your business to drive growth.
Great Value for Money
Use a robust and proven Saas Freemium Pro Forma Projection based on years of experience at an affordable price. This excel financial model template has a one-off payment and absolutely no hidden fees or monthly payments.
Get a robust, powerful financial model which is fully expandable
This well-tested, robust and powerful Saas Freemium 3 Way Forecast Model is your solid foundation to plan saas freemium business model. Advanced users are free to expand and tailor all sheets as desired, to handle specific requirements or to get into greater detail.
Predict the Influence of Upcoming Changes
Does your company plan to purchase new equipment or to launch a new product? Cash Flow Statement Forecast enable you to obtain a complete picture of the effect that specific changes will have on your Projected Cash Flow Statement. When planning your finances in the Cashflow Forecast, you will forecast cash inflows and outflows based on future invoices, bills due, and payroll. You can then create multiple 'what if' scenarios, such as buying new equipment to choose the best way for you. Forecasting shows you how the upcoming changes will affect your cash balance.
Identify potential shortfalls in cash balances in advance.
The Saas Freemium Financial Model works like an 'early warning system.' It is, by far, the most significant reason for a Cash Flow Statement Forecast.
REPORTS and INPUTS
Benchmarks
3 Way Forecast benchmark tab calculates the company's key performance indicators, either business or financial, and finds an industry-wide average as a comparison. The industry average metrics are then used to determine the relative value for benchmarking analysis.
Financial benchmarks are essential for the financial planning of the companies, especially for start-ups. These studies help companies determine the 'best practice' companies within the industry and compare their own financial results with these best practices. It is a useful financial and strategic management tool.
CAPEX
CapEx is important both for the start-ups and actively growing companies that put their efforts in investing in a new property, plant, and equipment (PP&E), as well as new products and new technologies. Such capital expenditures usually make a significant part of the company's expenditures; therefore, financial analysts and investors pay close attention to this financial report.
The company should reflect its capital expenditures in the Balance Sheet, and this type of expenditure does not significantly impact cash flows.
Loan opt-in
Calculating the necessary payments related to the obtained loan or mortgage is essential, especially for start-ups. At the same time, many companies may find this calculation to be a difficult task. In this case, our Profit Loss Projection has a loan amortization schedule with an amortization calculator will help to plan and list these loan payments.
Financial KPIs
With the help of the financial key performance indicators (KPIs), you can track your company's performance and improve its financial health. This Saas Freemium Three Way Financial Model allows showing the key performance indicators in the form of charts.
Top Revenue
When the company's management starts to make a Excel Financial Model, revenue is the most crucial component in the Financial Model. Revenue is one of the main drivers of the enterprise's value in the Budget Spreadsheet. That is why financial analysts must pay special attention to the planning and devising the best strategy to approach modeling future revenue streams.
Revenue forecasts should also have assumptions about the growth rate based on historical financial data. Users can find all the components of wise financial planning of the revenue streams in our Saas Freemium Excel Pro Forma.
Top Expenses
This Saas Freemium Profit Loss Projection has a Top expenses tab that displays your company's four most significant expense categories and the rest of the expenses as the 'other'.
Liquidity KPIs
Current Ratio. The current ratio is a liquidity ratio that helps users measure a company's ability to meet short-term obligations that should be paid within a year. This financial metric tells investors how a company can maximize the current assets on its balance sheet to cover its current debts.
File types:
Excel – Single-User: .xlsx
Excel – Multi-User: .xlsx
Free Demo – .xlsx