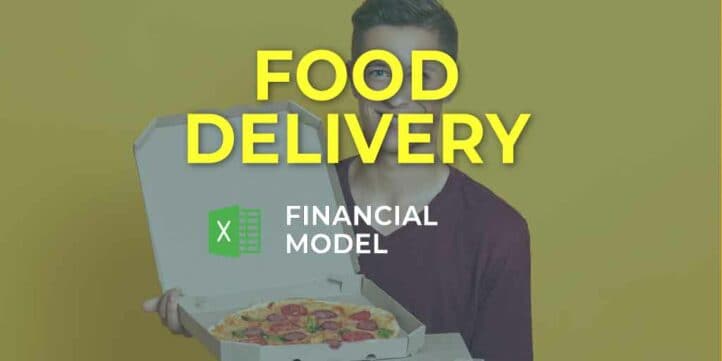 Financial Model, Retail
5-year financial projections, Break-Even, Budget, Budgeting, Business Valuation, Cash Flow Analysis, Cash Flow Projections, Dashboard, DCF Model, Financial Feasibility, Financial Model, Financial Modeling, Financial Planning, Financial Projection, Financial Projections, Financial Statements, Forecasting, Investor Cash Flows, Investors, Startup Financial Models, Three Statement Model | Three Financial Statements, Uses and Sources of Funds
NOTE: Single-User pertains to a limited Single User License where the template can only be used by one single user; while Multi-User is a license for users sharing the template with up to 20 members. Please refer to Terms of Use and License and Permitted Use for clarification.
FOOD DELIVERY FINANCIAL PROJECTION TEMPLATE EXCEL KEY FEATURES
Video tutorial:
Get Investors to Notice
Most entrepreneurs can't get investors to return their calls. With the Food Delivery Financial Projection Template Excel, you will secure meetings with potential investors easily.
Works for startups
Financial Projection Excel creates a financial summary formatted for your pitch deck
Simple and Incredibly Practical
Simple-to-use yet very sophisticated Food Delivery Cash Flow Format In Excel tool. Whatever size and stage of development your business is, with minimal planning experience and very basic knowledge of Excel you can get complete and reliable results. Additionally, you will receive uncompromised after-sales service and access to valuable tutorial videos and blog posts.
Spot problems with customer payments
Preparing the Cash Flow Statement By Month encourages the business to look at how quickly customers are paying their debts. Identify unpaid invoices and take necessary actions to make them pay.
Investors ready
Print ready (including a p&l forecast, a Cash Flow Forecast, a balance sheet, and a complete set of financial ratios).
Gaining trust from stakeholders
Investors and financing providers tend to think in terms of the big picture. They want the c-level of the companies they invest in to do the same to ensure they maintain a clear idea of the future. Providing stakeholders with a monthly cash flow statement proforma will demonstrate a level of awareness that leads to confidence and trust and will make it easier to raise more investment.
REPORTS and INPUTS
All in One Place
Our integrated Food Delivery Excel Pro Forma Template includes and connects everything you need for investors' meeting. It has financial assumptions, proformas, calculations, cash flow forecasts, and other templates. Moreover, our Excel Financial Model presents it in an investor-friendly way.
Cash Flow KPIs
Cash conversion cycle (CCC). The cash conversion cycle (CCC) is a financial metric that expresses the time it takes for a company to convert its resources in the form of inventory and other resources into cash flows. The cash conversion cycle is also called the Net Operating Cycle.
CCC measures how long each dollar that the company inputted is tied up in the production and sales process before it gets converted into cash.
The cash conversion cycl metric accounts for various factors, such as how much time it takes to sell inventory, how much time it takes to collect accounts receivable, and how much time it takes to pay obligations.
Costs
Our Food Delivery Pro Forma has a well-developed methodology for creating a cost budget. You can plan and forecast your costs from operations and other expenses for up to 72 months. The cost budget has a detailed hiring plan while also automatically handling the expenses' accounting treatment. You can set salaries, job positions, and the time of hiring.
Moreover, the model allows users to calculate hiring as the company scales automatically. Pre-built expense forecasting curves enable users to set how an expense changes over time. These pre-built options include % of revenues, % of salaries, % of any revenue category, growth (or decline) rates that stay the same or change over time, ongoing expenses, expenses that periodically reoccur, expenses that regularly change, and many more. Costs can be allocated to key expense areas and labeled for accounting treatment as SG&A, COGS, or CAPEX.
CAPEX
Capital expenditure (or CapEX) is an essential part of any Cash Flow Proforma. Financial specialists calculate CapEx to monitor investment in the fixed assets to handle depreciation, additions, and/or disposals related to the property, plant, and equipment (PPE).
CAPEX calculation also includes the company's assets' additions, including the assets in financial leasing.
Dashboard
A financial dashboard in this Food Delivery Five Year Financial Projection Template is a useful financial management tool. It helps track all your relevant finance key performance indicators (KPIs), assures effective cash management, and enables financial management to track expenses, sales, and profits in detail to meet and outperform a department or company's financial objectives.
Financial KPIs
Key performance indicators (KPIs) in the Startup Financial Model are crucial for both the company owner and for an investor. With the help of these metrics, you track your company's financial performance and assess the efficiency of business models and cost structures. You can use them to make you and your co-founders laser-focused on the targets you set.
Liquidity KPIs
Quick Ratio or Acid-Test Ratio. The quick ratio or acid-test ratio uses a firm's balance sheet data to analyze if it has sufficient short-term assets to cover its short-term liabilities. This metric ignores less liquid assets like such as inventory.
File types:
Excel – Single-User: .xlsx
Excel – Multi-User: .xlsx
Free Demo – .xlsx