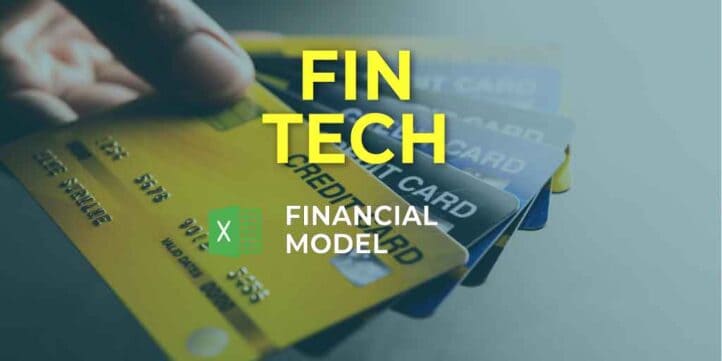 Financial Model, General Excel Financial Models, Peer to Peer Lending (P2P)
5-year financial projections, Break-Even, Budget, Budgeting, Business Valuation, Cash Flow Projections, DCF Model, Financial Model, Financial Modeling, Financial Planning, Financial Projection, Financial Projections, Financial Statements, Forecast, Forecasting, Loans, Post Money Valuation, Pre Money Valuation, Private Equity, Pro-Forma, Revenue Projections, Startup Financial Models, Terminal Value, Three Statement Model | Three Financial Statements, Uses and Sources of Funds, Valuation, WACC (Weighted Average Cost of Capital)
Analyze Fintech Revenue Model, Costs, Profit, And Cash Flow With Fintech Financial Model Excel Template. Get It!
This fintech financial model will be a perfect fit for the companies that operate in the fintech industry and want to assess their financial performance.
You can use this fintech business model template for start-ups to make the financial forecasts. You can also use it for your existing fintech business to identify its financial performance, strengths, and weaknesses.
WHAT'S INSIDE AND FOR WHOM WE DESIGNED THE FINTECH FINANCIAL MODEL?
This financial model focuses on the activities relevant to the fintech industry. The primary key performance indicator (KPI) used in this model is the number of clients the company has.
The model has the spreadsheet with the revenue breakdown that includes transaction revenue and currency exchange revenue (for transactions with currency conversion).
The model also has an expense breakdown. It focuses on the main fintech expenses, such as card issuance costs and client verification costs.
Our fintech business model template has a unique spreadsheet for the financial analysis of marketing activities. It includes three customers' attraction channels: marketing, organic clients, and referrals.
This financial model also focuses on the monthly churn rate, because the success of a fintech company directly depends on the number of customers.
Like all our financial models, the fintech financial model has three main financial reports, i.e., Income statement, Balance sheet, and Cash flow statement, and all standard financial calculations.
WHAT WILL I GET WITH MULTIPLE PROPERTIES REAL ESTATE FINANCIAL MODEL?
Our fintech financial model has a detailed breakdown of income and expenses relevant to the fintech industry.
It shows a line-by-line breakdown of the revenue streams, including revenue per transaction and revenue from the FOREX transactions.
This fintech business model focuses on customer attraction activities and related expenses. It helps users to analyze the financial performance of each marketing channel and calculate customer acquisition costs.
The fintech financial model automatically calculates the monthly churn rate.
You can perform the sensitivity analysis and analyze the impact of specific revenue and expense categories on EBITDA.
This model has a full set of financial statements and additional calculations crucial for any business.
The model also has a convenient dashboard where you can see all the necessary financial information.
You can use this fintech business model template both for internal analysis and as a business plan to show your potential investors.
Get these templates too for a discount!