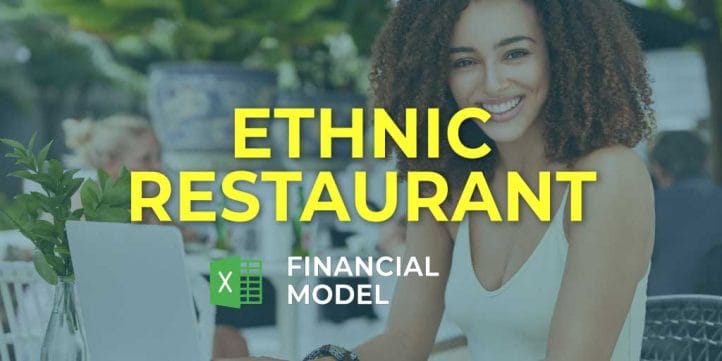 Financial Model, Hospitality, Restaurant
5-year financial projections, Business Valuation, Financial Model, Financial Modeling, Financial Projection, Financial Projections, Pro-Forma, Startup Financial Models, Three Statement Model | Three Financial Statements
NOTE: Single-User pertains to a limited Single User License where the template can only be used by one single user; while Multi-User is a license for users sharing the template with up to 20 members. Please refer to Terms of Use and License and Permitted Use for clarification.
ETHNIC RESTAURANT THREE STATEMENT FINANCIAL MODEL KEY FEATURES
Video tutorial:
Generate growth inspiration
By running various scenarios and looking at the effects they could have on your cash balance, you will begin to see which options are best for your business. Ones that are possible, and what is involved in making them work. Organic growth isn't the only option – there are growing funding options becoming available, and Cash Flow Statement Projection could be a way of looking at the impact an injection of cash could have on your business and its growth plans.
Print-ready Reports
Solid package of print-ready reports, including a profit and loss proforma, cash flow pro forma, a balance sheet, and a complete set of financial ratios.
Confidence in the future
Using our financial model, you can effectively plan, prevent risks, manage stocks and Cash Flow Projection and foresee your prospects for the next 5 years.
We do the math
Financial Model In Excel Template has all the required features ready with no formula writing, no formatting, no programming, no charting, and no expensive external consultants! Concentrate on the task of planning rather than programming.
Better decision making
Make better operational decisions with the help of creating Projected Cash Flow Statement scenarios in your Excel Template. Perhaps you have to choose between new staff members or investment in equipment, and you are wondering which decision to chose. Variants forecasting will give you the information you need to make these decisions with confidence that you know what impact they will have on your cash balance.
Key Metrics Analysis
Creates 5-year Ethnic Restaurant P&L Projection, proforma, financial statements, and financial ratios in GAAP or IFRS formats on the fly.
REPORTS and INPUTS
Profitability KPIs
The Ethnic Restaurant P&L Projection contains all performance metrics that correspond with pre-built templates and financial reports. It also has pre-built proformas for pro forma profit and loss statement, Balance Sheet, and cash flow pro forma, which you can use both for financial planning and presentations for investors.
With these reports, you can easily monitor your company's cash flows, revenues, costs, and profitability, including profitability margins, liquidity analysis, sources and uses, and others. The model calculates profitability ratios and other performance metrics, e.g., customer acquisition costs, and SaaS metrics, if applicable.
Benchmarks
A benchmarking study as the element of the 3 Way Financial Model is usually used to evaluate a business's performance by focusing on one or more particular indicators and comparing them with similar indicators of other companies in the industry.
In respect of the financial benchmarking study, these indicators could be profit margins, cost margins, cost per unit, productivity margins, or others. Later the company's performance indicators should be compared to that of other companies within the same industry.
Benchmarking is a useful strategic management tool, which is essential for start-ups. Companies can evaluate any economic, business, or financial metric or process and compare them to the processes of 'best practice' companies within the same field or industry.
All in One Place
This Ethnic Restaurant Finance Projection is key for investors. You will need a Finance Projection to validate how much money you need to start-up with and how much your investor can make on this investment. Remember that investors are not tolerant to start-ups that do not have a business plan or a Cash Flow Proforma Template.
Cap Table
3 Way Forecast consist of a Capitalization Table is one of the essential spreadsheets for start-ups. It reflects the company's overall ownership structure and depicts who owns what, how much possesses, and at what value. A capitalization table shows equity shares, preferred shares, options, and stakeholders' prices for such securities.
Liquidity KPIs
Liquidity Position. The liquidity position of a company is an essential indication of the financial health of the enterprise. To assess the liquidity position of the company, it is necessary to calculate the liquidity ratio. Many companies set a target liquidity ratio that reflects the specifics of their business and industry. Such target liquidity ratios ensure that companies have enough cash to meet their obligations. Therefore, we recommend setting a target liquidity ratio for your Three Statement Financial Model Template.
Costs
Our Ethnic Restaurant Cash Flow Format In Excel has a well-developed methodology for creating a cost budget. You can plan and forecast your costs from operations and other expenses for up to 72 months. The cost budget has a detailed hiring plan while also automatically handling the expenses' accounting treatment. You can set salaries, job positions, and the time of hiring.
Moreover, the model allows users to calculate hiring as the company scales automatically. Pre-built expense forecasting curves enable users to set how an expense changes over time. These pre-built options include % of revenues, % of salaries, % of any revenue category, growth (or decline) rates that stay the same or change over time, ongoing expenses, expenses that periodically reoccur, expenses that regularly change, and many more. Costs can be allocated to key expense areas and labeled for accounting treatment as SG&A, COGS, or CAPEX.
Sources and Uses
The Sources and Uses statement in our Ethnic Restaurant Financial Model Excel Template shows users that financial planning does not have to be complicated. This statement shows the company's stakeholders, e.g., lenders, how much financing the company needs, and how it plans to get it. There may be cases when the company does not need more funding. It wants to show its current investors that it has additional or alternative funding sources it can attract in case of unexpected events. These additional sources of funding may be interesting for banks, for example.
While putting together the Sources and Uses statement, companies and especially start-ups can include alternative funding sources, such as crowdfunding campaigns.
Another part of the Sources and Uses statement is the ways the company plans to use obtained funds. The total figure in this section should balance with the figure if the 'Sources' section, i.e., both parts of the Sources and Uses section, should balance.
File types:
Excel – Single-User: .xlsx
Excel – Multi-User: .xlsx
Free Demo – .xlsx