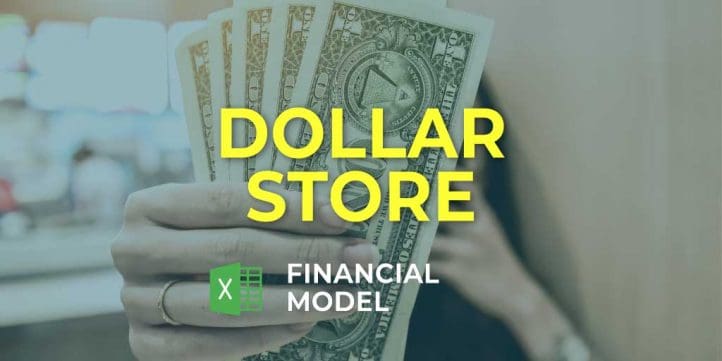 NOTE: Single-User pertains to a limited Single User License where the template can only be used by one single user; while Multi-User is a license for users sharing the template with up to 20 members. Please refer to Terms of Use and License and Permitted Use for clarification.
DOLLAR STORE FINANCIAL MODEL IN EXCEL TEMPLATE KEY FEATURES
Video tutorial:
Confidence in the future
Using our financial model, you can effectively plan, prevent risks, manage stocks and Pro Forma Cash Flow Projection and foresee your prospects for the next 5 years.
Update anytime
With Budget Spreadsheet you can easily adjust inputs at the launch stage and throughout the further activities of your store to refine your forecast.
Simple and Incredibly Practical
Simple-to-use yet very sophisticated Dollar Store Cash Flow Proforma Template tool. Whatever size and stage of development your business is, with minimal planning experience and very basic knowledge of Excel you can get complete and reliable results. Additionally, you will receive uncompromised after-sales service and access to valuable tutorial videos and blog posts.
Currency for inputs and denomination
In Financial Model In Excel Template define any currency code or symbol and preferred denomination (e.g. 000s) to reflect your preferences.
Simple-to-use
A very sophisticated Dollar Store Three Way Financial Model, whatever size and stage of development your business is. Minimal previous planning experience and very basic knowledge of Excel is required: however, fully sufficient to get quick and reliable results.
Run different scenarios
A Startup Cash Flow Statement shows you what your cash balance will look like taking into account the numbers you put into the template. It means you can play with the various variables that impact your cash flow forecast, i.e., wages, sales inflow, supplier payments, taxes, and so on. By adjusting the input amounts, you will be able to see what impact they will have on your businesses' cash flow and when this impact is likely to occur. A well-known example of this is the ability to forecast the effect a new member of staff might have on your cash flow over different periods. Increase the wage costs and see what happens to your cash flow. Running different scenarios in your Statement Of Cash Flows can have several benefits.
REPORTS and INPUTS
Top Expenses
This Dollar Store Pro Forma Budget has a Top expenses tab that displays your company's four most significant expense categories and the rest of the expenses as the 'other'.
Dashboard
Our P&L Projection has an all-in-one dashboard. This dashboard is a useful financial planning tool that helps financial professionals create fast, reliable, and transparent financial reports to the management and other company's stakeholders.
With this financial dashboard's help, users can assess the company's financial data, drill into financial details, or validate figures fast and easy. Our specialists understand that the company's financial management, especially the start-up's management, is under pressure to deliver fast decisions and results. This all-in-one financial dashboard is an effective financial tool that will help with these tasks.
With this dashboard, you will get data at your fingertips. You will be able to perform financial analysis, assess key performance indicators (KPIs), and other financial information you may need to generate actionable insights and make wise financial decisions.
Operational KPIs
Our Dollar Store Startup Financial Model has convenient, informative, and easy-to-use operational performance graphs. Here you may visually track your company's key operational performance indicators (KPIs) in the form of charts. These operational performance graphs show the stakeholders the financial information related to the company's liquidity, revenues, expenses, cash flows, and other financial metrics. This financial information in the form of graphs will help a business owner to create presentations for banks and investors with minimum efforts.
Financial KPIs
Key performance indicators (KPIs) in the Financial Projection Excel are crucial for both the company owner and for an investor. With the help of these metrics, you track your company's financial performance and assess the efficiency of business models and cost structures. You can use them to make you and your co-founders laser-focused on the targets you set.
CAPEX
Capital expenditures, or CapEx, calculations reflect the company's spendings to buy various assets that will bring long-term value to the company. CapEx is typically related to buildings, property, plant, and equipment (PPEs).
Our Dollar Store Pro Forma Budget has a pre-built tab for CapEX calculations that will help users determine the company's growth and expansion plans that require significant spendings on equipment and other assets. It is important for business owners and financial specialists to understand the relationship between the company's CapEx, deprecation, and financial statement.
All in One Place
Get a sophisticated but easy-to-use Budget Spreadsheet that is fully expandable. Our robust and powerful Dollar Store Financial Projection Template Excel will be your roadmap for many different business models. If you have financial experience, you can expand and tailor all sheets as desired.
Costs
A Dollar Store Financial Model In Excel Template is an important financial tool that enables users to identify actual and forecasted expenditures, as well as financial resources needed to cover these costs. With a well-developed cost budget, you can see the areas where you can save money and the areas of high priority. As a part of a business plan, the cost budget supports the process of pitching to investors and loan applications.
File types:
Excel – Single-User: .xlsx
Excel – Multi-User: .xlsx
Free Demo – .xlsx