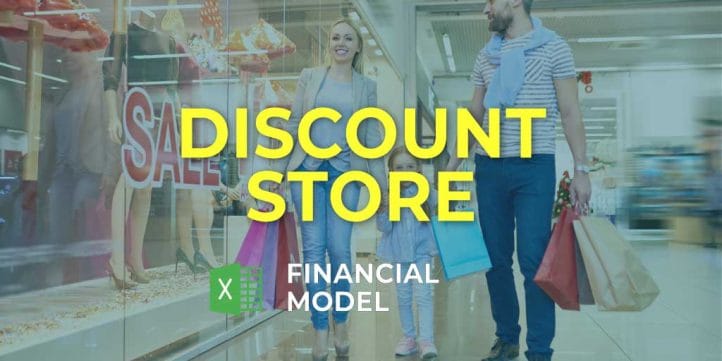 NOTE: Single-User pertains to a limited Single User License where the template can only be used by one single user; while Multi-User is a license for users sharing the template with up to 20 members. Please refer to Terms of Use and License and Permitted Use for clarification.
DISCOUNT STORE FINANCIAL PROJECTION MODEL EXCEL KEY FEATURES
Video tutorial:
We do the math
Finance Projection has all the features above ready with no formula writing, no formatting, no programming, no charting, and no expensive external consultants!
5 years forecast horizon
Generate fully-integrated Discount Store Pro Forma for 5 years (on a monthly basis). Automatic aggregation of annual summaries on outputs tabs.
Spot problems with customer payments
Preparing the Startup Cash Flow Projection encourages the business to look at how quickly customers are paying their debts. Identify unpaid invoices and take necessary actions to make them pay.
Track your spending and staying within budget
Have you written a vague idea of cash inflows and cash outflows on the back of a napkin? All is well and good. Looking at the pro forma p&l statement will give you a snapshot of the past business performance, but it won't show the future in terms of the Statement Of Cash Flows. With a cash flow projection, you can plan future cash inflows and cash outflows and compare it to the budget, which can be invaluable information.
Works for startups
Financial Model Excel creates a financial summary formatted for your pitch deck
Update anytime
You can easily adjust inputs at the launch stage and throughout the further activities of your business to refine your Discount Store Excel Financial Model Template.
REPORTS and INPUTS
CAPEX
CapEx is important both for the start-ups and actively growing companies that put their efforts in investing in a new property, plant, and equipment (PP&E), as well as new products and new technologies. Such capital expenditures usually make a significant part of the company's expenditures; therefore, financial analysts and investors pay close attention to this financial report.
The company should reflect its capital expenditures in the Balance Sheet, and this type of expenditure does not significantly impact cash flows.
Valuation
With our Discount Store Excel Pro Forma, you will get proformas for valuation analysis. You will be able to perform a Discounted Cash Flow (DCF) valuation analysis and other valuations you may need.
Cash Flow KPIs
Cash conversion cycle (CCC). The cash conversion cycle (CCC) is a financial metric that expresses the time it takes for a company to convert its resources in the form of inventory and other resources into cash flows. The cash conversion cycle is also called the Net Operating Cycle.
CCC measures how long each dollar that the company inputted is tied up in the production and sales process before it gets converted into cash.
The cash conversion cycl metric accounts for various factors, such as how much time it takes to sell inventory, how much time it takes to collect accounts receivable, and how much time it takes to pay obligations.
Dashboard
The All-in-one dashboard in this Discount Store Financial Projection Template contains all core financial inputs and core start-up metrics critical for the companies' financial analysis. It reflects the financial data from a Balance Sheet, an pro forma profit and loss, and a cash flow pro forma. Moreover, users can obtain financial information in the form of graphs or charts.
Financial Statements
Our Discount Store Excel Financial Model Template has a pre-built integrated financial statement structure that contains all the primary financial statements (Balance sheet, p&l projection, and statement of cash flows) and creates financial forecasts for the next five years automatically.
This integrated financial statement structure has pre-built proformas, financial and managerial reports, and financial ratios. Users can choose the presentation of financial information in GAAP or IFRS format for their convenience.
Burn and Runway
The cash burn rate shows the difference between the cash inflows and cash outflows of the company. It is essential to monitor this metric because it shows how long the company will last with its current funding level. Business owners can also see a clear picture of how various business strategies change the cash burn rate.
Top Expenses
It is very important for a start-up and existing company to monitor, plan, and manage its costs and expenses to maintain a good profitability level.
For this purpose, it is necessary to analyze the highest costs and always work on their optimization. In our Financial Model In Excel Template we have created a Top expense report helps users with this task. It summarizes the four biggest expense categories and the rest of the expenses as the 'other', so the users can easily monitor these expenses and track the tendencies related to their increase or decrease from year to year.
File types:
Excel – Single-User: .xlsx
Excel – Multi-User: .xlsx
Free Demo – .xlsx