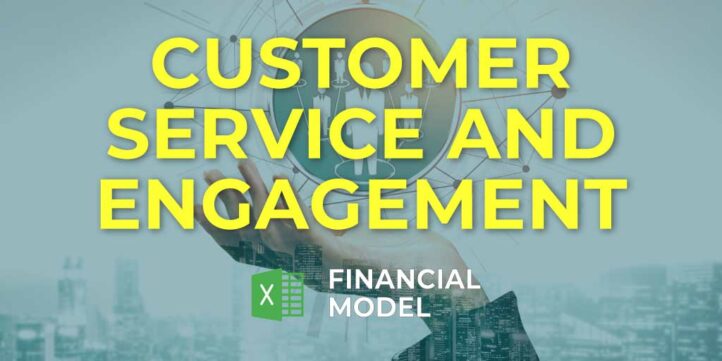 Financial Model, Online Businesses & IT, SaaS, Service Businesses
5-year financial projections, Amortization, Budget, Budgeting, Business Valuation, Cap Table, DCF Model, Debt Amortization, Debt Schedule, Excel, Financial Model, Financial Planning, Financial Projections, Financial Reporting, Financial Statements, Forecast, Forecasting, Loans, NPV (Net Present Value), Pro-Forma, Revenue Projections, Valuation
NOTE: Single-User pertains to a limited Single User License where the template can only be used by one single user; while Multi-User is a license for users sharing the template with up to 20 members. Please refer to Terms of Use and License and Permitted Use for clarification.
CUSTOMER SERVICE SOFTWARE 3 WAY FINANCIAL MODEL TEMPLATE KEY FEATURES
Video tutorial:
We do the math
Excel Financial Model has all the required features ready with no formula writing, no formatting, no programming, no charting, and no expensive external consultants! Concentrate on the task of planning rather than programming.
5 years forecast horizon
Generate fully-integrated Customer Service Software 3 Way Forecast Excel Template for 5 years (on a monthly basis). Automatic aggregation of annual summaries on outputs tabs.
Currency for inputs and denomination
In Financial Model In Excel Template define any currency code or symbol and preferred denomination (e.g. 000s) to reflect your preferences.
Saves you time
Allows you to spend less time on Cash Flow Projection and more time on your products, customers and business development
Track your spending and staying within budget
Have you written a vague idea of cash inflows and cash outflows on the back of a napkin? All is well and good. Looking at the income statement projection will give you a snapshot of the past business performance, but it won't show the future in terms of the Pro Forma Cash Flow Projection. With a projected cashflow statement, you can plan future cash inflows and cash outflows and compare it to the budget, which can be invaluable information.
Save Time and Money
Customer Service Software Startup Financial Model allows you to start planning with minimum fuss and maximum of help. No writing formulas, no formatting, no programming, no charting, and no expensive external consultants. Plan the growth of your business instead of fiddling around with expensive techy things.
REPORTS and INPUTS
Dashboard
Our Cashflow Projection has an all-in-one dashboard. This dashboard is a useful financial planning tool that helps financial professionals create fast, reliable, and transparent financial reports to the management and other company's stakeholders.
With this financial dashboard's help, users can assess the company's financial data, drill into financial details, or validate figures fast and easy. Our specialists understand that the company's financial management, especially the start-up's management, is under pressure to deliver fast decisions and results. This all-in-one financial dashboard is an effective financial tool that will help with these tasks.
With this dashboard, you will get data at your fingertips. You will be able to perform financial analysis, assess key performance indicators (KPIs), and other financial information you may need to generate actionable insights and make wise financial decisions.
Top Expenses
This Customer Service Software Cash Flow Format In Excel has a Top expenses tab that displays your company's four most significant expense categories and the rest of the expenses as the 'other'.
Valuation
With our pre-built valuation template in the Customer Service Software Cash Flow Proforma, you will receive all the data your investors might need.
The weighted average cost of capital (WACC) will show your stakeholders the minimum return on enterprise funds invested in its activities capital. Free cash flow valuation will show a cash flow available to all investors, including shareholders and creditors. Discounted cash flow will reflect the value of future cash flows in relation to the current time.
Benchmarks
The financial benchmarking study tab in this Profit Loss Projection will help the companies assess their key performance indicators and compare them with other companies' KPIs.
The term 'benchmarking' means the process of comparing the business, financial or other metrics of your company to that of other firms within the same industry. It is essential to use other businesses' best practices in the same industry as a 'benchmark' to improve your own company's standards.
As a result of the benchmarking study, companies can learn how to operate in a certain industry more efficiently. This benefit makes the financial benchmarking study an essential planning tool for start-ups.
Profitability KPIs
EBIT. Earnings before interest and tax (EBIT) is a measure of a company's earning power from ongoing operations, equal to earnings before deduction of interest payments and income taxes. EBIT shows the operating performance of the company that excludes income and expenditures from unusual and non-operational activities.
Financial Statements
Our Customer Service Software Financial Projection Model Template has pre-built consolidated financial statements: pro forma profit and loss, Balance Sheet, and cash flow statement for 5 years. These financial statements can be presented on a monthly, quarterly, and annual basis.
Users can also import existing financial statements and reports from Quickbooks, Xero, Freshbooks, and other accounting software to create rolling forecasts and to make actuals vs. forecasts comparison.
CAPEX
Capital expenditure (or CapEX) is an essential part of any 3 Way Forecast Excel Template. Financial specialists calculate CapEx to monitor investment in the fixed assets to handle depreciation, additions, and/or disposals related to the property, plant, and equipment (PPE).
CAPEX calculation also includes the company's assets' additions, including the assets in financial leasing.
File types:
Excel – Single-User: .xlsx
Excel – Multi-User: .xlsx
Free Demo – .xlsx