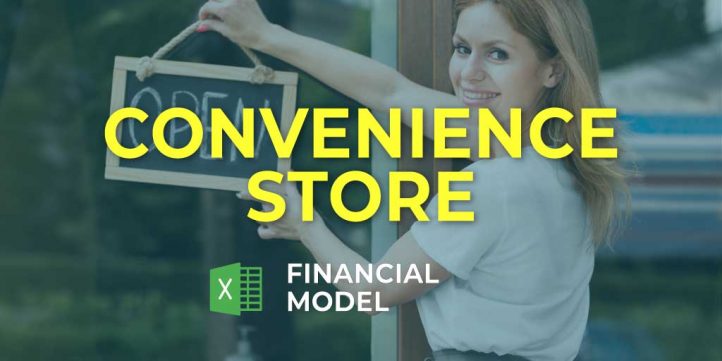 NOTE: Single-User pertains to a limited Single User License where the template can only be used by one single user; while Multi-User is a license for users sharing the template with up to 20 members. Please refer to Terms of Use and License and Permitted Use for clarification.
CONVENIENCE STORE FINANCIAL PROJECTION KEY FEATURES
Video tutorial:
Print-ready Reports
Solid package of print-ready reports, including a p&l projection, statement of cash flows, a balance sheet, and a complete set of financial ratios.
Investors ready
Print ready (including a p&l projection, a Startup Cash Flow Statement, a balance sheet, and a complete set of financial ratios).
Manage surplus cash
Most companies don't have excess cash in the bank. It is a well-known situation. But managing surplus cash for reinvestment in new market opportunities, or debt repayments can be essential to keeping stay in the business. Managers are entirely ready to plan for what to do with the cash surplus if they have the forecast of when and where the business will have surplus cash in the bank account. Statement Of Cash Flows will provide supplementary guidance on what to do with a cash surplus.
Better decision making
Make better operational decisions with the help of creating Cash Flow Projection scenarios in your Excel Template. Perhaps you have to choose between new staff members or investment in equipment, and you are wondering which decision to chose. Variants forecasting will give you the information you need to make these decisions with confidence that you know what impact they will have on your cash balance.
Gaining trust from stakeholders
Investors and financing providers tend to think in terms of the big picture. They want the c-level of the companies they invest in to do the same to ensure they maintain a clear idea of the future. Providing stakeholders with a monthly cash flow statement by month will demonstrate a level of awareness that leads to confidence and trust and will make it easier to raise more investment.
Currency for inputs and denomination
In Three Statement Financial Model define any currency code or symbol and preferred denomination (e.g. 000s) to reflect your preferences.
REPORTS and INPUTS
CAPEX
Capex, or capital expenditures, represents the total company's expenditures on purchasing assets in a given period. These expenditures include both assets acquired and built by the company.
Usually, the company's investments, or expenditures, related to these assets are significant. These capital assets provide value to the company over a more extended period than one reporting period. Therefore, the company reflects these CapEX calculations in the Balance Sheet and does not recognize the whole amount of investments in the income statement projection in one reporting period.
Top Revenue
When the company's management starts to make a Budget Spreadsheet, revenue is the most crucial component in the Pro Forma Projection. Revenue is one of the main drivers of the enterprise's value in the Financial Projection Model Excel. That is why financial analysts must pay special attention to the planning and devising the best strategy to approach modeling future revenue streams.
Revenue forecasts should also have assumptions about the growth rate based on historical financial data. Users can find all the components of wise financial planning of the revenue streams in our Convenience Store Excel Financial Model.
Top Expenses
In the Top expenses section of our Convenience Store Financial Model Excel Spreadsheet, you can track your more significant expenses divided into four categories. The model also has an 'other' category, and you can expand or change this table according to your needs.
You can reflect your company's historical data or make a Pro Forma Template Excel for the five years.
Cap Table
Three Statement Financial Model Template consist of a Capitalization Table is one of the essential spreadsheets for start-ups. It reflects the company's overall ownership structure and depicts who owns what, how much possesses, and at what value. A capitalization table shows equity shares, preferred shares, options, and stakeholders' prices for such securities.
Valuation
Our Convenience Store Three Statement Financial Model has two integrated valuation methods. It has a discounted cash flow (DCF) and the weighted average cost of capital (WACC) calculations to show a company's forecasted financial performance.
Cash Flow KPIs
Cash balance. The cash balance shows the total amount of money in a financial account of the company. Any company needs to hold in reserve enough amount of cash to meet current obligations.
Operational KPIs
Our Convenience Store Three Statement Financial Model has convenient, informative, and easy-to-use operational performance graphs. Here you may visually track your company's key operational performance indicators (KPIs) in the form of charts. These operational performance graphs show the stakeholders the financial information related to the company's liquidity, revenues, expenses, cash flows, and other financial metrics. This financial information in the form of graphs will help a business owner to create presentations for banks and investors with minimum efforts.
File types:
Excel – Single-User: .xlsx
Excel – Multi-User: .xlsx
Free Demo – .xlsx