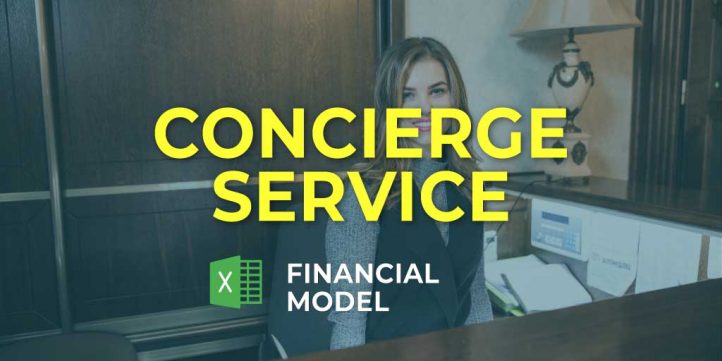 CONCIERGE SERVICE 3 WAY FORECAST KEY FEATURES
Video tutorial:
Identify potential shortfalls in cash balances in advance.
The Concierge Service Budget Financial Model works like an 'early warning system.' It is, by far, the most significant reason for a Cash Flow Projection.
Graphical visualization in a convenient dashboard all in one
All necessary reports and calculations, including variable data for your easement, are displayed on a convenient 3 Way Forecast Model dashboard tab. You do not need to move between sheets to compare important data – everything is visible immediately.
Manage accounts receivable.
By creating a cash flow statement by month that takes invoices and bills into account, you'll be more easily able to identify who is systematically paying late. You could even go on to model different payment dates on overdue invoices to see the real effect of late payments on your cash flow.
Saves you time
Allows you to spend less time on Cash Flow Statement and more time on your products, customers and business development
Investors ready
Print ready (including a profit and loss pro forma, a Cash Flow Statement By Month, a balance sheet, and a complete set of financial ratios).
Simple-to-use
A very sophisticated Concierge Service Pro Forma Budget, whatever size and stage of development your business is. Minimal previous planning experience and very basic knowledge of Excel is required: however, fully sufficient to get quick and reliable results.
REPORTS and INPUTS
Dashboard
The All-in-one dashboard in this Concierge Service Pro Forma Template Excel contains all core financial inputs and core start-up metrics critical for the companies' financial analysis. It reflects the financial data from a Balance Sheet, an p&l proforma, and a cash flow forecast. Moreover, users can obtain financial information in the form of graphs or charts.
Top Expenses
This Concierge Service Financial Projection Excel has a Top expenses tab that displays your company's four most significant expense categories and the rest of the expenses as the 'other'.
Valuation
With our pre-built valuation template in the Concierge Service Financial Model Excel Template, you will receive all the data your investors might need.
The weighted average cost of capital (WACC) will show your stakeholders the minimum return on enterprise funds invested in its activities capital. Free cash flow valuation will show a cash flow available to all investors, including shareholders and creditors. Discounted cash flow will reflect the value of future cash flows in relation to the current time.
Burn and Runway
This Concierge Service Pro Forma Template Excel automatically calculates the cash burn rate based on the inputs from other spreadsheets, in particular, from the cash flow statement forecast.
Cash Flow KPIs
Operating cash flow. Operating cash flow calculation shows how much cash the company generates from the business operations. This calculation does not include secondary sources of revenue, like interest or investments.
Benchmarks
Our 3 Way Financial Model has the proforma for industry benchmark analysis. Industry benchmarks, including the financial benchmarks, show users the comparison of performance indicators, e.g., financial indicators, with similar performance indicators of the other companies in the same industry.
Financial KPIs
A Concierge Service Financial Model In Excel Template outputs include both company and sector-specific key performance indicators KPIs. These KPIs include profitability metrics, cash flow metrics, and liquidity metrics. It also has KPIs crucial for the attraction of investments.