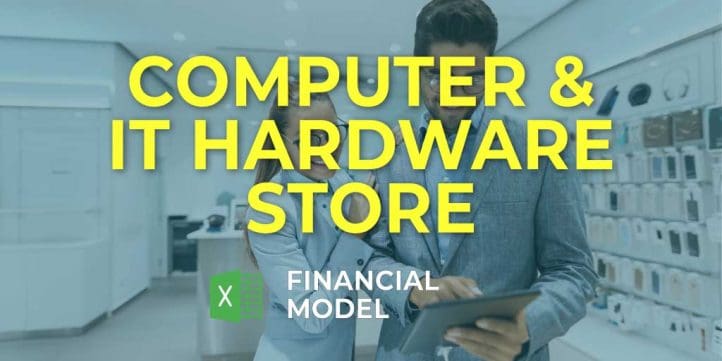 Financial Model, Retail
5-year financial projections, Business Valuation, Financial Model, Financial Modeling, Financial Projection, Financial Projections, Free Financial Model Templates, Pro-Forma, Startup Financial Models, Three Statement Model | Three Financial Statements
COMPUTER & IT HARDWARE STORE STARTUP FINANCIAL MODEL KEY FEATURES
Video tutorial:
Manage surplus cash
Most companies don't have excess cash in the bank. It is a well-known situation. But managing surplus cash for reinvestment in new market opportunities, or debt repayments can be essential to keeping stay in the business. Managers are entirely ready to plan for what to do with the cash surplus if they have the forecast of when and where the business will have surplus cash in the bank account. Cash Flow Statement Proforma will provide supplementary guidance on what to do with a cash surplus.
Works for startups
Cash Flow Proforma Template creates a financial summary formatted for your pitch deck
Get it Right the First Time
Funding is a binary event: either you succeed or you fail. If you fail, most investors won't give you a second chance. Learn about the pros and cons with Computer & IT Hardware Store Pro Forma Projection.
Avoid Cash Flow Shortfalls
Unexpected Projected Cash Flow Statement shortfalls can cause significant damage to your business, and it may take months to recover. Negative Cash Flow can appear if you don't continuously track the incoming cash and outgoing of your business. Fortunately, you can solve Cash Flow Statement For 5 Years shortfalls with a bit of effort. Forecasting your Startup Cash Flow Projection will help you identify — and plan for — market fluctuations, sales seasonality, and other cases that can lead to unpredictable Cash Flow Statement Projection. Cash Flow Pro Forma can even help you visualize Cash Flow Statement For 5 Years trends with the help of automatically generated charts and graphs.
External stakeholders, such as banks, may require a regular forecast.
If the business has a bank loan, the bank will ask for a Computer & IT Hardware Store Startup Financial Model regularly.
Plan for Future Growth
Cash Flow Statement By Month can help you plan for future growth and expansion. No matter you're extending your company with new employees and need to take into account increased staff expenses. Or to scale production to keep up with increased sales, future projections help you see accurately where you're running — and how you'll get there. Forecasting is also a well-known goal-setting framework to help you plan out the financial steps your company has to take to reach targets. There's power in Cash Flow Statement and the insight they can provide your business. Fortunately, this competitive advantage comes with little effort when you use the Projected Cash Flow Statement.
REPORTS and INPUTS
Financial KPIs
With the help of the financial key performance indicators (KPIs), you can track your company's performance and improve its financial health. This Computer & IT Hardware Store Startup Financial Model allows showing the key performance indicators in the form of charts.
Loan opt-in
Calculating the necessary payments related to the obtained loan or mortgage is essential, especially for start-ups. At the same time, many companies may find this calculation to be a difficult task. In this case, our Cash Flow Format In Excel has a loan amortization schedule with an amortization calculator will help to plan and list these loan payments.
Cap Table
In our Computer & IT Hardware Store 3 Way Financial Model, a Capitalization table, or Cap table is a spreadsheet critical for start-ups that shows the company's ownership structure. It lists your company's shares and options, if any. It also shows the prices your investors have paid for these shares and each investor's percentage of ownership in the company.
Valuation
With our pre-built valuation template in the Computer & IT Hardware Store Financial Projection Template Excel, you will receive all the data your investors might need.
The weighted average cost of capital (WACC) will show your stakeholders the minimum return on enterprise funds invested in its activities capital. Free cash flow valuation will show a cash flow available to all investors, including shareholders and creditors. Discounted cash flow will reflect the value of future cash flows in relation to the current time.
Benchmarks
A benchmarking study as the element of the Financial Model Excel Template is usually used to evaluate a business's performance by focusing on one or more particular indicators and comparing them with similar indicators of other companies in the industry.
In respect of the financial benchmarking study, these indicators could be profit margins, cost margins, cost per unit, productivity margins, or others. Later the company's performance indicators should be compared to that of other companies within the same industry.
Benchmarking is a useful strategic management tool, which is essential for start-ups. Companies can evaluate any economic, business, or financial metric or process and compare them to the processes of 'best practice' companies within the same field or industry.
CAPEX
CapEx is important both for the start-ups and actively growing companies that put their efforts in investing in a new property, plant, and equipment (PP&E), as well as new products and new technologies. Such capital expenditures usually make a significant part of the company's expenditures; therefore, financial analysts and investors pay close attention to this financial report.
The company should reflect its capital expenditures in the Balance Sheet, and this type of expenditure does not significantly impact cash flows.
Performance KPIs
Return on equity. The return on equity financial metric can be calculated based on the information both from the Balance Sheet and projected p&l statement. It measures the correspondence of earnings to the equity, i.e., the amount of money used to get profits.