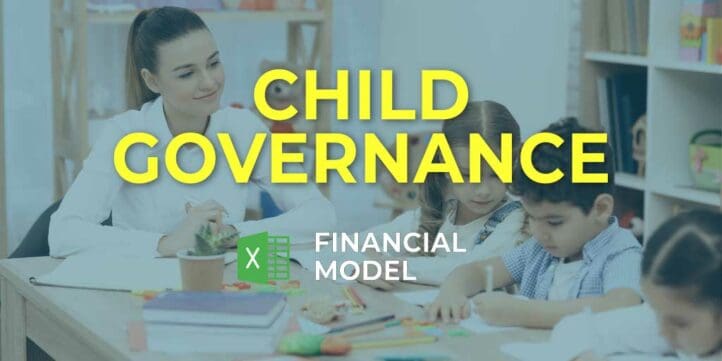 NOTE: Single-User pertains to a limited Single User License where the template can only be used by one single user; while Multi-User is a license for users sharing the template with up to 20 members. Please refer to Terms of Use and License and Permitted Use for clarification.
CHILD GOVERNANCE P&L PROJECTION KEY FEATURES
Update anytime
With Financial Projection Model Excel you can easily adjust inputs at the launch stage and throughout the further activities of your store to refine your forecast.
Simple and Incredibly Practical
Simple-to-use yet very sophisticated Child Governance Three Statement Financial Model Template tool. Whatever size and stage of development your business is, with minimal planning experience and very basic knowledge of Excel you can get complete and reliable results. Additionally, you will receive uncompromised after-sales service and access to valuable tutorial videos and blog posts.
Spot problems with customer payments
Preparing the Projected Cash Flow Statement encourages the business to look at how quickly customers are paying their debts. Identify unpaid invoices and take necessary actions to make them pay.
Investors ready
Print ready (including a profit and loss statement, a Cash Flow Statement Projection, a balance sheet, and a complete set of financial ratios).
Get it Right the First Time
Funding is a binary event: either you succeed or you fail. If you fail, most investors won't give you a second chance. Learn about the pros and cons with Child Governance Pro Forma Budget.
Integrated Model to convince Investors
Pro Forma Template Excel includes and connects everything (assumptions, calculations, outputs) and presents it in an investor-friendly, deal-proven way.
REPORTS and INPUTS
All in One Place
Get a robust and expandable Child Governance 3 Way Forecast. You can say that the Budget Spreadsheet is robust if it does not break down when you change your assumptions inside the Financial Projection Template. To make our Startup Financial Model robust and expandable, we have modeled as many scenarios as possible.
We have also foreseen that each business is unique, and users can add, delete, or adjust any financial information in the template.
Financial Statements
The template has a three-statement Startup Financial Model with integrated proformas. It allows users to create a company's Balance Sheet, pro forma p&l statement, and a cashflow forecast with minimum efforts. For these proformas, users can input either historical or forecasted financial data. Forecasted financial statements show how a company will perform under various circumstances and allow users to integrate different assumptions in the Cashflow Projection.
For example, the company's management can see the economic impact of its decisions, such as price changes.
Our well-built Child Governance Financial Projection Model shows stakeholders how the company's functions work together and how management's decisions impact its overall financial performance.
Liquidity KPIs
Accounts payable turnover (APT). The accounts payable turnover ratio (APT) is a short-term liquidity metric that helps to quantify the rate at which a company pays off its suppliers. Accounts payable turnover shows how many times a company pays off its accounts payable within a certain period.
This financial metric is a short-term debt of a company, and the accounts payable turnover ratio shows how efficiently a company pays its debts.
Top Expenses
The Top expenses tab of the Child Governance Excel Pro Forma Template reflects your company's annual expenses, both total and grouped by four categories.
This Excel Pro Forma provides an overview of annual expenses on customer acquisition, COSS placeholders, wages & salaries, fixed and variable expenses, and all other expenses.
Profitability KPIs
The Child Governance Five Year Financial Projection Template contains all performance metrics that correspond with pre-built templates and financial reports. It also has pre-built proformas for projected income statement, Balance Sheet, and projected cash flow statement, which you can use both for financial planning and presentations for investors.
With these reports, you can easily monitor your company's cash flows, revenues, costs, and profitability, including profitability margins, liquidity analysis, sources and uses, and others. The model calculates profitability ratios and other performance metrics, e.g., customer acquisition costs, and SaaS metrics, if applicable.
Valuation
This Child Governance Financial Model In Excel contains a valuation analysis template that will allow users to perform a Discounted Cash Flow valuation (DCF). It will also help users analyze such financial metrics as residual value, replacement costs, market comparables, recent transaction comparables, etc.
Performance KPIs
Return on capital. The return on capital reflects the correspondence of the Balance Sheet and Income Statement. Return on capital measures the accomplishment of earnings to the capital employed.
Companies with good financial management have good returns.
File types:
Excel – Single-User: .xlsx
Excel – Multi-User: .xlsx
Free Demo – .xlsx