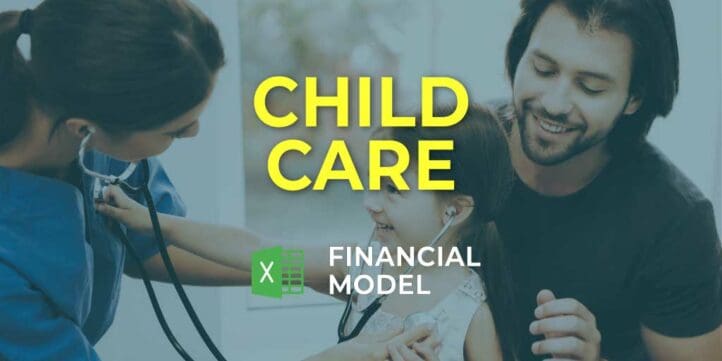 Education, Financial Model, Schools, Service Businesses
5-year financial projections, Amortization, Break-Even, Business Valuation, Cap Table, Cash Flow Projections, DCF Model, Debt Amortization, Excel, Financial Model, Financial Planning, Financial Projections, Financial Reporting, Financial Statements, Forecast, Forecasting, Free Financial Model Templates, Loans, NPV (Net Present Value), Pro-Forma, Revenue Projections, Startup Financial Models, Three Statement Model | Three Financial Statements, Uses and Sources of Funds, Valuation
NOTE: Single-User pertains to a limited Single User License where the template can only be used by one single user; while Multi-User is a license for users sharing the template with up to 20 members. Please refer to Terms of Use and License and Permitted Use for clarification.
CHILD CARE FINANCIAL MODEL EXCEL TEMPLATE KEY FEATURES
Video tutorial:
Get it Right the First Time
Funding is a binary event: either you succeed or you fail. If you fail, most investors won't give you a second chance. Learn about the pros and cons with Child Care Budget Spreadsheet.
Get a robust, powerful financial model which is fully expandable
This well-tested, robust and powerful Child Care Finance Projection is your solid foundation to plan child care business model. Advanced users are free to expand and tailor all sheets as desired, to handle specific requirements or to get into greater detail.
Currency for inputs and denomination
In Cash Flow Proforma Template define any currency code or symbol and preferred denomination (e.g. 000s) to reflect your preferences.
Simple-to-use
A very sophisticated Child Care Excel Financial Model Template, whatever size and stage of development your business is. Minimal previous planning experience and very basic knowledge of Excel is required: however, fully sufficient to get quick and reliable results.
Run different scenarios
A Projected Cash Flow Statement Format shows you what your cash balance will look like taking into account the numbers you put into the template. It means you can play with the various variables that impact your cash flow forecast, i.e., wages, sales inflow, supplier payments, taxes, and so on. By adjusting the input amounts, you will be able to see what impact they will have on your businesses' cash flow and when this impact is likely to occur. A well-known example of this is the ability to forecast the effect a new member of staff might have on your cash flow over different periods. Increase the wage costs and see what happens to your cash flow. Running different scenarios in your Cashflow Forecast can have several benefits.
Avoid cash flow problems.
Cash flow, and especially Startup Cash Flow Projection from operations, is the lifeblood of your business – do not ignore it! The level of cash flow in your company dictates the decisions you can make and how quickly you can grow your business. So you should monitor and manage cash flow regularly. Monthly cash flow forecasting will give you a current view of the cash inflows and outflows within your business and also what the next period looks like. Regular Cash Flow Statement Proforma forecasting can highlight where cash gaps will be in the future and where there could be improvements made. Most importantly, a Projected Cash Flow Statement will give you a good idea of the health of your business cash flow at a glance. Finding potential cash flow gaps ahead of time can save you and your business both time and money. You can make decisions and take actions before things get too bad, ensuring your Cash Flow Statement Projection is maintained, based on your forecasts.
REPORTS and INPUTS
Sources and Uses
Sources and uses statement is a part of our Child Care Pro Forma Budget. It shows the company's stakeholders where all the fund sources for a company come from.
This statement also shows how the company uses these funds.
Cap Table
The capitalization table helps business owners to calculate shareholder's ownership dilution. The Cap table in our Child Care Financial Projection Model Template has four rounds of funding, and users can apply all of them or one or two rounds for their financial projections.
Benchmarks
The financial benchmarking study tab in this 3 Way Forecast Model will help the companies assess their key performance indicators and compare them with other companies' KPIs.
The term 'benchmarking' means the process of comparing the business, financial or other metrics of your company to that of other firms within the same industry. It is essential to use other businesses' best practices in the same industry as a 'benchmark' to improve your own company's standards.
As a result of the benchmarking study, companies can learn how to operate in a certain industry more efficiently. This benefit makes the financial benchmarking study an essential planning tool for start-ups.
Performance KPIs
Sales growth year-to-date. Every entrepreneur wants to see the company grow month-over-month. In some industries, sales depend on the season or other external factors. The sales growth year-to-date metric shows the pace at which the company's sales revenue increases or decreases.
Users can monitor sales volumes over various periods – daily, weekly, monthly, or yearly. Sales growth metric helps to manage sales growth goals in the form of a percentage of last month's sales volume or others. If the company has several sales teams, the management can monitor this metric for each team separately. It will help to monitor better each team's achievements.
Burn and Runway
This Child Care Finance Projection automatically calculates the cash burn rate based on the inputs from other spreadsheets, in particular, from the startup cash flow projection.
Dashboard
Our Budget Spreadsheet has an all-in-one dashboard. This dashboard is a useful financial planning tool that helps financial professionals create fast, reliable, and transparent financial reports to the management and other company's stakeholders.
With this financial dashboard's help, users can assess the company's financial data, drill into financial details, or validate figures fast and easy. Our specialists understand that the company's financial management, especially the start-up's management, is under pressure to deliver fast decisions and results. This all-in-one financial dashboard is an effective financial tool that will help with these tasks.
With this dashboard, you will get data at your fingertips. You will be able to perform financial analysis, assess key performance indicators (KPIs), and other financial information you may need to generate actionable insights and make wise financial decisions.
Costs
Start-up costs are an essential part of any Excel Pro Forma. They begin to accrue before actual operations start, so it is crucial to monitor them early to avoid overspendings and underfunding. Our Child Care Cash Flow Format In Excel has the proforma for start-up costs that show both funding and expenses. You can use this proforma to monitor your expenses and create cost budgets.
File types:
Excel – Single-User: .xlsx
Excel – Multi-User: .xlsx
Free Demo – .xlsx