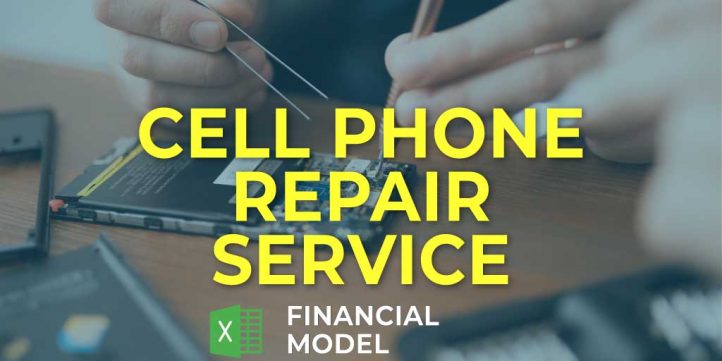 CELL PHONE REPAIR SERVICE 3 WAY FINANCIAL MODEL TEMPLATE KEY FEATURES
Video tutorial:
Get a robust, powerful financial model which is fully expandable
This well-tested, robust and powerful Cell Phone Repair Service Three Way Financial Model is your solid foundation to plan cell phone repair service business model. Advanced users are free to expand and tailor all sheets as desired, to handle specific requirements or to get into greater detail.
Saves you time
Financial Model In Excel allows you to spend less time on finances and more time on your products, customers and business development
Confidence in the future
Using our financial model, you can effectively plan, prevent risks, manage stocks and Projected Cash Flow Statement and foresee your prospects for the next 5 years.
All necessary reports
When creating a Cell Phone Repair Service 3 Way Financial Model Template, you will not need to independently prepare financial reports and study the requirements for them. Our Excel template contains all the necessary reports and calculations that correspond with the lenders demand.
5 years forecast horizon
Generate fully-integrated Cell Phone Repair Service Financial Projection Template for 5 years (on a monthly basis). Automatic aggregation of annual summaries on outputs tabs.
Better decision making
Make better operational decisions with the help of creating Cash Flow Forecast scenarios in your Excel Template. Perhaps you have to choose between new staff members or investment in equipment, and you are wondering which decision to chose. Variants forecasting will give you the information you need to make these decisions with confidence that you know what impact they will have on your cash balance.
REPORTS and INPUTS
All in One Place
Get a robust and expandable Cell Phone Repair Service P&L Projection. You can say that the Excel Financial Model Template is robust if it does not break down when you change your assumptions inside the Pro Forma Template Excel. To make our Pro Forma Template robust and expandable, we have modeled as many scenarios as possible.
We have also foreseen that each business is unique, and users can add, delete, or adjust any financial information in the template.
Loan opt-in
Similar to the amortization of the Cell Phone Repair Service Financial Model assets, a loan amortization reflects the spreading out the repayment of a loan for a certain period that covers several reporting periods. The process of loan amortization includes a series of fixed payments over time. Usually, companies make these payments on a monthly basis, but there may also be quarterly or annual payments.
Profitability KPIs
EBIT. Earnings before interest and tax (EBIT) is also known as operating income. It is a profitability measure that shows the difference between a company's revenues and operating expenses, including the cost of sales, interest on loans, and taxes. This calculation shows the company's ability to generate profits and, therefore, this metric is also named as operating earnings or operating profit.
Break Even
A break even formula excel tab in this Pro Forma Template Excel shows the break even point analysis. This calculation illustrates when your company is supposed to become profitable. In other words, a break even excel indicates when the company's overall revenues exceed its expenses.
Cash Flow KPIs
Operating cash flow. Operating cash flow calculation shows how much cash the company generates from the business operations. This calculation does not include secondary sources of revenue, like interest or investments.
Cap Table
The Financial Projection Template Excel and its Capitalization table (or Cap table) summarizes your investors' information, their share in the company, and how much they have paid for these shares.
Valuation
With our pre-built valuation template in the Cell Phone Repair Service Finance Projection, you will receive all the data your investors might need.
The weighted average cost of capital (WACC) will show your stakeholders the minimum return on enterprise funds invested in its activities capital. Free cash flow valuation will show a cash flow available to all investors, including shareholders and creditors. Discounted cash flow will reflect the value of future cash flows in relation to the current time.