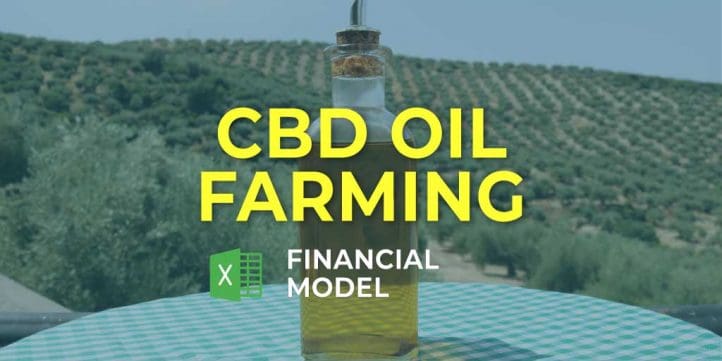 Agriculture, Financial Model
5-year financial projections, Business Valuation, Financial Model, Financial Modeling, Financial Projection, Financial Projections, Free Financial Model Templates, Pro-Forma, Startup Financial Models, Three Statement Model | Three Financial Statements
NOTE: Single-User pertains to a limited Single User License where the template can only be used by one single user; while Multi-User is a license for users sharing the template with up to 20 members. Please refer to Terms of Use and License and Permitted Use for clarification.
CBD OIL FARMING 3 WAY FORECAST KEY FEATURES
Video tutorial:
Print-ready Reports
Solid package of print-ready reports, including a p&l projection, pro forma cash flow projection, a balance sheet, and a complete set of financial ratios.
Update anytime
With Budget Spreadsheet you can easily adjust inputs at the launch stage and throughout the further activities of your store to refine your forecast.
Identify cash gaps and surpluses before they happen.
Forecasting your future cash balance helps you see well in advance when you may have a cash deficit that could hurt your business. The projected Cashflow Statement will give you enough time to take action to prevent a crisis. It will enable you to access better loan rates or speed up incoming payments to bridge the gap. On the other side, if you know ahead of time that the large lump of cash will lay in your bank account within the next three months. In this case, you might need to explore options to reinvest it in your business to drive growth.
Avoid Cash Flow Shortfalls
Unexpected Cash Flow Statement Projection shortfalls can cause significant damage to your business, and it may take months to recover. Negative Cash Flow can appear if you don't continuously track the incoming cash and outgoing of your business. Fortunately, you can solve Cashflow Forecast shortfalls with a bit of effort. Forecasting your Cash Flow Statement will help you identify — and plan for — market fluctuations, sales seasonality, and other cases that can lead to unpredictable Cash Flow Statement Proforma. Cash Flow Statement Forecast can even help you visualize Projected Cash Flow Statement trends with the help of automatically generated charts and graphs.
Simple-to-use
A very sophisticated Cbd Oil Farming Pro Forma Template, whatever size and stage of development your business is. Minimal previous planning experience and very basic knowledge of Excel are required: however, fully sufficient to get quick and reliable results.
Confidence in the future
Using our financial model, you can effectively plan, prevent risks, manage stocks and Startup Cash Flow Projection, and foresee your prospects for the next 5 years.
REPORTS and INPUTS
Financial Statements
Our Cbd Oil Farming Cash Flow Format In Excel has a pre-built integrated financial statement structure that contains all the primary financial statements (Balance sheet, profit and loss statement, and cash flow statement proforma) and creates financial forecasts for the next five years automatically.
This integrated financial statement structure has pre-built proformas, financial and managerial reports, and financial ratios. Users can choose the presentation of financial information in GAAP or IFRS format for their convenience.
Valuation
With our Cbd Oil Farming Excel Pro Forma Template, you will get proformas for valuation analysis. You will be able to perform a Discounted Cash Flow (DCF) valuation analysis and other valuations you may need.
Dashboard
This Cbd Oil Farming 3 Way Forecast has an all-in-one dashboard. This tab is a snapshot of a business's start-up metrics at a particular point in time. You can see your core start-up financials, revenue breakdown by years, pro forma cash flow projection data, profitability forecasts, and cumulative cash flow on this dashboard in the form of charts and graphs.
All in One Place
Get a sophisticated but easy-to-use Financial Model that is fully expandable. Our robust and powerful Cbd Oil Farming 3 Way Financial Model Template will be your roadmap for many different business models. If you have financial experience, you can expand and tailor all sheets as desired.
Loan opt-in
The loan amortization schedule template in this Cbd Oil Farming Cashflow Projection reflects the schedule of repayment of the loan. It shows detailed information about the company's periodic payments or installments that comprise of principal amount and an interest component.
These elements are shown in the loan amortization schedule template for the period till the end of the loan term or up to which the full amount of the loan is paid off.
Break-Even
The break-even analysis (BEA) is a useful financial tool that helps companies study the relationship between fixed and variable costs and revenue. This analysis calculates the break-even point (BEP), indicating when an investment in the start-up will generate a positive return.
Our Cbd Oil Farming Budget Spreadsheet represents the excel break-even formula graphically and as a mathematical calculation. It calculates the required sales volume at a certain sales price that will cover its overall costs.
Cash Flow KPIs
Cash balance. The cash balance shows the total amount of money in the financial account of the company. Any company needs to hold in reserve enough amount of cash to meet current obligations.
File types:
Excel – Single-User: .xlsx
Excel – Multi-User: .xlsx
Free Demo – .xlsx