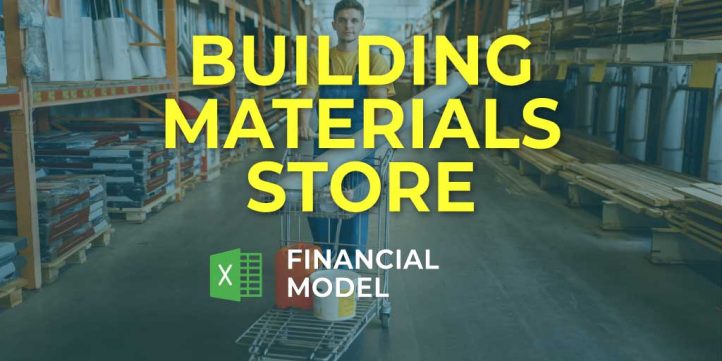 Financial Model, Retail
5-year financial projections, Business Valuation, Financial Model, Financial Modeling, Financial Projection, Financial Projections, Free Financial Model Templates, Pro-Forma, Startup Financial Models, Three Statement Model | Three Financial Statements
NOTE: Single-User pertains to a limited Single User License where the template can only be used by one single user; while Multi-User is a license for users sharing the template with up to 20 members. Please refer to Terms of Use and License and Permitted Use for clarification.
BUILDING MATERIALS STORE 3 WAY FORECAST EXCEL TEMPLATE KEY FEATURES
Video tutorial:
Track your spending and staying within budget
Have you written a vague idea of cash inflows and cash outflows on the back of a napkin? All is well and good. Looking at the p&l projection will give you a snapshot of the past business performance, but it won't show the future in terms of the Projected Cash Flow Statement. With a startup cash flow projection, you can plan future cash inflows and cash outflows and compare it to the budget, which can be invaluable information.
Get a Robust, Powerful and Flexible Financial Model
This well-tested, robust and powerful Building Materials Store Financial Model Excel Template is your solid foundation to plan a business model. Advanced users are free to expand and tailor all sheets as desired, to handle specific requirements or to get into greater detail.
Saves you time
Financial Model In Excel Template allows you to spend less time on finances and more time on your products, customers and business development
Key Metrics Analysis
Creates 5-year Building Materials Store Pro Forma Projection, proforma, financial statements, and financial ratios in GAAP or IFRS formats on the fly.
Simple and Incredibly Practical
Simple-to-use yet very sophisticated Building Materials Store Financial Model. Whatever size and stage of development your business is, with minimal planning experience and very basic knowledge of Excel you can get complete and reliable results.
Plan for Future Growth
Projected Cash Flow Statement can help you plan for future growth and expansion. No matter you're extending your company with new employees and need to take into account increased staff expenses. Or to scale production to keep up with increased sales, future projections help you see accurately where you're running — and how you'll get there. Forecasting is also a well-known goal-setting framework to help you plan out the financial steps your company has to take to reach targets. There's power in Cash Flow Statement Forecast and the insight they can provide your business. Fortunately, this competitive advantage comes with little effort when you use the Projected Cash Flow Statement Format.
REPORTS and INPUTS
Break Even
The Building Materials Store Excel Financial Model has an integrated template for the break-even analysis. The excel break even formula calculation helps the company's management understand when the company is expected to become profitable. This Financial Model Excel will automatically generate y break-even timing, break-even units, and break-even revenue of the company.
Liquidity KPIs
Liquidity Position. The liquidity position of a company is an essential indication of the financial health of the enterprise. To assess the liquidity position of the company, it is necessary to calculate the liquidity ratio. Many companies set a target liquidity ratio that reflects the specifics of their business and industry. Such target liquidity ratios ensure that companies have enough cash to meet their obligations. Therefore, we recommend setting a target liquidity ratio for your 3 Way Financial Model Template.
Financial KPIs
In the P&L Projection you can visually track your key financial indicators (KPIs) for 24 months and up to five years.
The model all KPIs you might need for your company:
– EBITDA/EBIT shows your company's operational performance;
– CASH FLOWS show your company's inflows and outflows;
– CASH BALANCE this is the forecast of cash in hand you will have.
Sources and Uses
The Financial Projection Model Sources and Uses (or so-called S&U) statement shows the stakeholders how the company plans to finance its project or overall business activities and where the capital will go.
The Sources and Uses of cash statement's primary rule is that the funds' sources must balance with the combined uses. This report can have a basic format, or you can extend it and change it in a way that fits best with your company's needs.
In the Sources part of the statement, the business owner should mention the funding sources on a line-by-line basis. Similarly, the Uses section should reflect on a line-by-line basis the company's plan on how to use these funds.
Ideally, the Sources and Uses section of this statement should match, or the Sources section should be bigger.
If the Sources section is bigger than the Uses section, it means that the company has more funds than it needs for the current business activities. In this case, the company may plan an extension of the business or other cash flow distribution ways.
Otherwise, if the Uses section is bigger than the Sources section, it means that the company requires additional equity.
Performance KPIs
Lead-to-client conversion rate. Lead-to-Client Conversion Rate is an essential metric for the businesses that attract new clients with the Internet, social media, and other similar channels. Leads do not turn into customers automatically. Company's sale team need to convert these leads into actual customers.
The Lead-to-Conversion business metric is a good measure of the sales team's performance. Moreover, it indicates the quality of your product. If you have a low conversion rate, it may sign that your product is not attractive to the customers.
Top Revenue
The top line and bottom line are two of the most important lines on a company's pro forma income statement. Investors and analysts pay special attention to the company's revenue and profits and carefully monitor any changes regarding these financial metrics from quarter to quarter and year to year.
The top line of the pro forma income statement for startup refers to a company's revenues or gross sales. Therefore, when somebody says that the company has 'top-line growth,' it means that the company is experiencing an increase in gross sales or revenues, which should positively impact other company's financials and overall performance.
Loan opt-in
Our Budget Spreadsheet has a built-in loan amortization schedule with both the principal (i.e., the amount of loan borrowed) and the interest calculation. A loan amortization schedule template will calculate your company's payment amount, including the information on the principal, interest rate, time length of the loan, and the payments' frequency.
File types:
Excel – Single-User: .xlsx
Excel – Multi-User: .xlsx
Free Demo – .xlsx