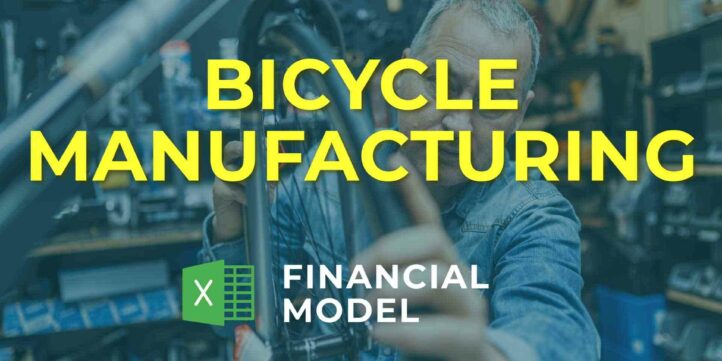 NOTE: Single-User pertains to a limited Single User License where the template can only be used by one single user; while Multi-User is a license for users sharing the template with up to 20 members. Please refer to Terms of Use and License and Permitted Use for clarification.
BICYCLE MANUFACTURING CASH FLOW PROFORMA TEMPLATE KEY FEATURES
Video tutorial:
Update anytime
With Three Statement Financial Model you can easily adjust inputs at the launch stage and throughout the further activities of your store to refine your forecast.
Defensible
You will be able to defend the model to CEO or investors, regardless you are CFO or a startup founder, as the entire Bicycle Manufacturing Startup Financial Model is built on the logic pertinent to marketplaces. You just need to make sure your assumptions are reasonable and the model will do the rest.
We do the math
Financial Projection Template has all the features above ready with no formula writing, no formatting, no programming, no charting, and no expensive external consultants!
5 years forecast horizon
Generate fully-integrated Bicycle Manufacturing Cashflow Projection for 5 years (on a monthly basis). Automatic aggregation of annual summaries on outputs tabs.
Structured
You want a Bicycle Manufacturing Cash Flow Format In Excel to be as easy to understand as possible. You also want to make it easy for others to be able to audit if needed.
We make this 3 Way Forecast Excel Template a simple as possible.
Simple and Incredibly Practical
Simple-to-use yet very sophisticated Bicycle Manufacturing Financial Projection. Whatever size and stage of development your business is, with minimal planning experience and very basic knowledge of Excel you can get complete and reliable results.
REPORTS and INPUTS
CAPEX
Capital expenditures reflect the company's amount on long-term assets expected to bring value for more than one year. For example, the cost of a computer may be capital expenditure included in the balance sheet. In contrast, the electricity cost to run this computer is an expense included in the P&L Forecast
.
All long term assets have a useful life, and part of the cost of the asset is written off each year to the Projected P&L Statement as an expense. Users can find these expenses in the P&L Forecast under the heading of depreciation. The depreciation expense amount reduces the value of the asset shown in the balance sheet for the year.
Simultaneously, the CAPEX report shows the company's stakeholders the full picture of the company's expenditures on assets.
Cap Table
The Financial Model In Excel and its Capitalization table (or Cap table) summarizes your investors' information, their share in the company, and how much they have paid for these shares.
Profitability KPIs
Net profit margin. Net profit margin is a business metric of the Budget Spreadsheet that shows how efficient your company is at generating profit compared to its revenue. In other words, this net profit margin metric tells users how each dollar translates into profits. The Net profit margin metric is an excellent way to forecast and manage the long-term growth of a business, i.e., how the income exceeds the business's costs.
Top Expenses
The Top expenses tab of the Bicycle Manufacturing 3 Way Forecast Excel Template reflects your company's annual expenses, both total and grouped by four categories.
This Excel Financial Model Template provides an overview of annual expenses on customer acquisition, COSS placeholders, wages & salaries, fixed and variable expenses, and all other expenses.
Break Even
This Bicycle Manufacturing Financial Model has a template for a Break Even Point Analysis. This financial instrument helps users identify when the revenue of the company starts exceeding its total cost. This is the time point when the project under consideration or a company as a whole will start generating profits. Studying the relationship between the company's revenue and its fixed and variable costs is crucial for its success.
The break-even point calculation helps the company's management determine the necessary level of sales and product price that will cover the total cost of business, i.e., fixed and variable costs. It shows users how to calculate the time point when a company is expected to make a profit.
Financial Statements
P&L Proforma. Profit and Loss Statement indicates how much an enterprise earns. It shows the company's main income streams and expenses. In other words, the Income statement shows the company's ability to gain money.