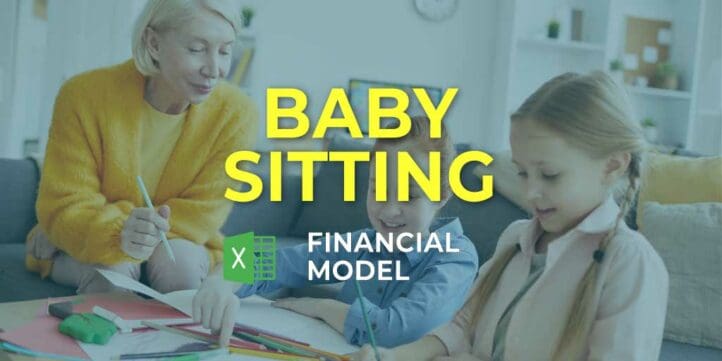 Education, Financial Model, Schools, Service Businesses
5-year financial projections, Break-Even, Business Valuation, Cap Table, Cash Flow Analysis, Cash Flow Projections, DCF Model, Debt Amortization, Excel, Financial Feasibility, Financial Model, Financial Planning, Financial Projections, Financial Reporting, Financial Statements, Forecast, Forecasting, Free Financial Model Templates, Loans, NPV (Net Present Value), Pro-Forma, Profitability Analysis, Revenue Projections, Startup Financial Models, Three Statement Model | Three Financial Statements, Valuation
NOTE: Single-User pertains to a limited Single User License where the template can only be used by one single user; while Multi-User is a license for users sharing the template with up to 20 members. Please refer to Terms of Use and License and Permitted Use for clarification.
BABYSITTING FIVE YEAR FINANCIAL PROJECTION TEMPLATE KEY FEATURES
Video tutorial:
It is part of the reports set you need.
It doesn't matter you are worried about cash or not, setting up, and managing a Babysitting Financial Model Excel should be a cornerstone of your reporting set. It's the main report of your business that must have in place to grow sustainably. Before you rush into rent more office space or making a new hire, you should always run a Cash Flow Statement Projection scenario. You can model how that action would impact your cash balance in the nearest future. Knowing whether or not plans are possible is crucial to minimizing risk.
Graphical visualization in a convenient dashboard all in one
All necessary reports and calculations, including variable data for your easement, are displayed on a convenient Three Statement Financial Model dashboard tab. You do not need to move between sheets to compare important data – everything is visible immediately.
Confidence in the future
Using our financial model, you can effectively plan, prevent risks, manage stocks and Cash Flow Statement By Month and foresee your prospects for the next 5 years.
Build your plan and pitch for funding
Impress bankers and investors with a proven, strategic Babysitting Startup Financial Model that impresses every time.
Simple and Incredibly Practical
Simple-to-use yet very sophisticated Babysitting P&L Projection tool. Whatever size and stage of development your business is, with minimal planning experience and very basic knowledge of Excel you can get complete and reliable results. Additionally, you will receive uncompromised after-sales service and access to valuable tutorial videos and blog posts.
5 years forecast horizon
Generate fully-integrated Babysitting Cashflow Projection for 5 years (on a monthly basis). Automatic aggregation of annual summaries on outputs tabs.
REPORTS and INPUTS
Liquidity KPIs
Quick Ratio or Acid-Test Ratio. The quick ratio or acid-test ratio uses a firm's balance sheet data to analyze if it has sufficient short-term assets to cover its short-term liabilities. This metric ignores less liquid assets like such as inventory.
Costs
A Babysitting Budget Spreadsheet is an important financial tool that enables users to identify actual and forecasted expenditures, as well as financial resources needed to cover these costs. With a well-developed cost budget, you can see the areas where you can save money and the areas of high priority. As a part of a business plan, the cost budget supports the process of pitching to investors and loan applications.
Performance KPIs
Return on capital. The return on capital reflects the correspondence of the Balance Sheet and Income Statement. Return on capital measures the accomplishment of earnings to the capital employed.
Companies with good financial management have good returns.
Loan opt-in
Our Profit Loss Projection has a built-in loan amortization schedule with both the principal (i.e., the amount of loan borrowed) and the interest calculation. A loan amortization schedule template will calculate your company's payment amount, including the information on the principal, interest rate, time length of the loan, and the payments' frequency.
Break Even
The Babysitting Budget Financial Model has an integrated template for the break-even analysis. The break even point excel calculation helps the company's management understand when the company is expected to become profitable. This Finance Projection will automatically generate y break-even timing, break-even units, and break-even revenue of the company.
All in One Place
A well-developed and easy-to-use 3 Way Forecast. You do not to be a financial expert to design your start-up P&L Projection. Everything you need is the right set of financial tools, and our Babysitting Pro Forma Template Excel will give you them.
Top Expenses
It is very important for a start-up and existing company to monitor, plan, and manage its costs and expenses to maintain a good profitability level.
For this purpose, it is necessary to analyze the highest costs and always work on their optimization. In our Financial Model we have created a Top expense report helps users with this task. It summarizes the four biggest expense categories and the rest of the expenses as the 'other', so the users can easily monitor these expenses and track the tendencies related to their increase or decrease from year to year.
File types:
Excel – Single-User: .xlsx
Excel – Multi-User: .xlsx
Free Demo – .xlsx