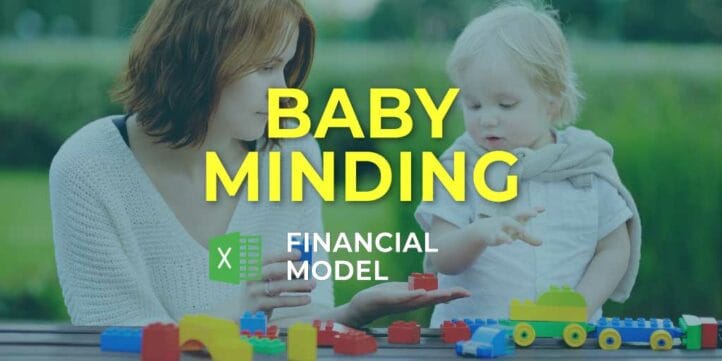 Education, Financial Model, Schools, Service Businesses
5-year financial projections, Amortization, Break-Even, Cap Table, Cash Flow Analysis, Cash Flow Projections, DCF Model, Debt Amortization, Excel, Financial Model, Financial Planning, Financial Projections, Forecast, Forecasting, Free Financial Model Templates, Loans, NPV (Net Present Value), Pro-Forma, Revenue Projections, Startup Financial Models, Three Statement Model | Three Financial Statements, Valuation
NOTE: Single-User pertains to a limited Single User License where the template can only be used by one single user; while Multi-User is a license for users sharing the template with up to 20 members. Please refer to Terms of Use and License and Permitted Use for clarification.
BABY MINDING FINANCIAL PROJECTION MODEL EXCEL KEY FEATURES
Video tutorial:
Identify cash gaps and surpluses before they happen.
Forecasting your future cash balance helps you see well in advance when you may have a cash deficit that could hurt your business. Startup Cash Flow Projection will give you enough time to take action to prevent a crisis. It will enable you to access better loan rates or speed up incoming payment to bridge the gap. On the other side, if you know ahead of time that the large lump of cash will lay in your bank account within the next three months. In this case, you might need to explore options to reinvest it in your business to drive growth.
Convenient, All-In-One Dashboard
Includes all required forecasting reports, including assumptions, pro forma profit and loss, projected cash flow statement, balance sheets, performance reviews and summaries for months and years (incl. numerous graphs and KPIs).
Print-ready Reports
Solid package of print-ready reports, including a income statement projection, cash flow statement projection, a balance sheet, and a complete set of financial ratios.
Simple and Incredibly Practical
Simple-to-use yet very sophisticated Baby Minding Financial Model In Excel. Whatever size and stage of development your business is, with minimal planning experience and very basic knowledge of Excel you can get complete and reliable results.
It is part of the reports set you need.
It doesn't matter you are worried about cash or not, setting up, and managing a Baby Minding Financial Projection Excel should be a cornerstone of your reporting set. It's the main report of your business that must have in place to grow sustainably. Before you rush into rent more office space or making a new hire, you should always run a Cash Flow Statement Proforma scenario. You can model how that action would impact your cash balance in the nearest future. Knowing whether or not plans are possible is crucial to minimizing risk.
Build your plan and pitch for funding
Impress bankers and investors with a proven, solid baby minding financial model that impresses every time.
REPORTS and INPUTS
Operational KPIs
Financial graphs and charts in this Baby Minding Three Statement Financial Model Template help the stakeholders visually track liquidity, budgets, expenses, cash flow, and many other company financial metrics. These graphs will also help a company's management avoid problems by reflecting its financial data in real-time, with a comprehensive financial information overview.
These operational performance graphs will help the business owners and financial managers ensure the best possible performance and financial health of their company because regular financial analytics procedures and the highest quality of financial data are the company's top priorities.
Our financial graphs will also help the company's financial specialists raise financial issues at the general meetings and deliver understandable financial information to other departments and external stakeholders.
Break Even
This Baby Minding Excel Pro Forma Template has a template for a break even excel. This financial instrument helps users identify when the revenue of the company starts exceeding its total cost. This is the time point when the project under consideration or a company as a whole will start generating profits. Studying the relationship between the company's revenue and its fixed and variable costs is crucial for its success.
The break-even point calculation helps the company's management determine the necessary level of sales and product price that will cover the total cost of business, i.e., fixed and variable costs. It shows users how to calculate the time point when a company is expected to make a profit.
Loan opt-in
A loan amortization schedule is a table that shows the company's stakeholders the details of the periodic payments for an amortizing loan. It reflects the principal of an amortizing loan that is paid down over the life of the loan. In most cases, such payments have equal amounts, and the company regularly makes them during a certain period.
A Baby Minding 3 Way Forecast includes the pre-built amortization calculator, which reflects the initial amount, periodic terms, and interest rate of the loan. With this loan amortization schedule, the companies can better plan and track how much they still owe and how they plan to repay the loans.
Liquidity KPIs
Quick Ratio or Acid-Test Ratio. The quick ratio or acid-test ratio uses a firm's balance sheet data to analyze if it has sufficient short-term assets to cover its short-term liabilities. This metric ignores less liquid assets like such as inventory.
Top Expenses
It is very important for a start-up and existing company to monitor, plan, and manage its costs and expenses to maintain a good profitability level.
For this purpose, it is necessary to analyze the highest costs and always work on their optimization. In our Financial Model Excel we have created a Top expense report helps users with this task. It summarizes the four biggest expense categories and the rest of the expenses as the 'other', so the users can easily monitor these expenses and track the tendencies related to their increase or decrease from year to year.
Performance KPIs
Payback period. The cost of acquiring new customers should be compared to the profits that these customers generate. When these two numbers are divided, the result is called a payback period.
CAPEX
A capital expenditure ('CapEx' for short) table reflects the company's expenses, either cash or credit, on purchases of goods that are capitalized on the balance sheet. Such capitalized expenses, the company does not reflect directly in the profit and loss statement as expenses, and such expenses are considered as an investment in the company's expansion.
File types:
Excel – Single-User: .xlsx
Excel – Multi-User: .xlsx
Free Demo – .xlsx