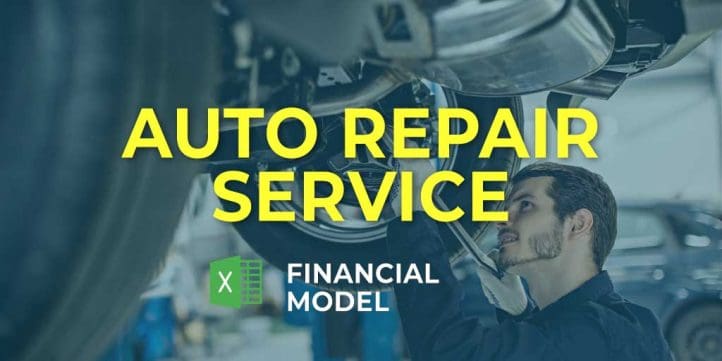 AUTO REPAIR SERVICE FINANCE PROJECTION KEY FEATURES
Video tutorial:
We do the math
Pro Forma Template Excel has all the features above ready with no formula writing, no formatting, no programming, no charting, and no expensive external consultants!
Saves you time
Cashflow Projection allows you to spend less time on finances and more time on your products, customers and business development
Avoid Cash Flow Shortfalls
Unexpected Projected Cash Flow Statement Format shortfalls can cause significant damage to your business, and it may take months to recover. Negative Cash Flow can appear if you don't continuously track the incoming cash and outgoing of your business. Fortunately, you can solve Cash Flow Pro Forma shortfalls with a bit of effort. Forecasting your Cash Flow Statement Proforma will help you identify — and plan for — market fluctuations, sales seasonality, and other cases that can lead to unpredictable Cash Flow Statement Projection. Cash Flow Pro Forma can even help you visualize Cash Flow Statement trends with the help of automatically generated charts and graphs.
Generate growth inspiration
By running various scenarios and looking at the effects they could have on your cash balance, you will begin to see which options are best for your business. Ones that are possible, and what is involved in making them work. Organic growth isn't the only option – there are growing funding options becoming available, and Cash Flow Statement Projection could be a way of looking at the impact an injection of cash could have on your business and its growth plans.
Convince investors and lenders
Enhance your pitches and impress potential financiers with a Financial Model In Excel delivering the right information and expected financial and operational metrics. Facilitate your negotiations with investors for successful funding. Raise money more quickly and refocus on your core business.
Identify cash gaps and surpluses before they happen.
Forecasting your future cash balance helps you see well in advance when you may have a cash deficit that could hurt your business. Startup Cash Flow Projection will give you enough time to take action to prevent a crisis. It will enable you to access better loan rates or speed up incoming payment to bridge the gap. On the other side, if you know ahead of time that the large lump of cash will lay in your bank account within the next three months. In this case, you might need to explore options to reinvest it in your business to drive growth.
REPORTS and INPUTS
Cap Table
Our Auto Repair Service Cashflow Projectionhas a cap table proforma on a separate Excel spreadsheet. It shows the ownership breakdown of your start-up at different periods. A cap table tells investors how much money they will make if they decide to exit.
Liquidity KPIs
Quick Ratio or Acid-Test Ratio. The quick ratio or acid-test ratio uses a firm's balance sheet data to analyze if it has sufficient short-term assets to cover its short-term liabilities. This metric ignores less liquid assets like such as inventory.
Profitability KPIs
EBITDA. Earnings before interest, tax, depreciation, and amortization (EBITDA) is the primary measure of a company's operating performance.
Dashboard
In this Profit Loss Projection, users will find a Dashboard with core financial metrics relevant to their business. This financial dashboard is a snapshot of all critical financial metrics at a particular point in time. In particular, on this dashboard, you will see your core financials, such as revenue breakdown by years, cash flow statement for 5 years, profitability forecasts, and cumulative cash flows.
Financial Statements
With our Financial Projection Template, you can easily create an p&l proforma, a Balance Sheet, and a cash flow statement forecast for your company. You can choose these statements' format and make any financial statement with a monthly or annual breakdown, or for five years.
Sources and Uses
Sources and Uses of Funds Statement is a critical financial spreadsheet in our Auto Repair Service Five Year Financial Projection Template. Business owners will need this statement for bank loan applications and the meeting with potential investors. Many banks include this statement in the application process for a business loan. The Sources and Uses statement is equally important both for large companies and for start-ups.
Large companies include Sources and Uses statement into their annual report for investors. The start-ups need to manage each source of funding and control each separate expense.
Lenders appreciate Sources and Uses of Funds Statement because it excellently summarizes its financial plans and financial management strategies. This statement puts together the company's vision regarding the financing of the start-up or future expansion.
Financial KPIs
Key performance indicators (KPIs) in the Pro Forma Template are crucial for both the company owner and for an investor. With the help of these metrics, you track your company's financial performance and assess the efficiency of business models and cost structures. You can use them to make you and your co-founders laser-focused on the targets you set.