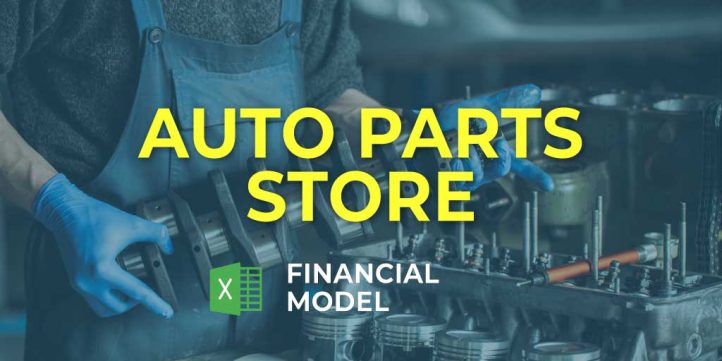 NOTE: Single-User pertains to a limited Single User License where the template can only be used by one single user; while Multi-User is a license for users sharing the template with up to 20 members. Please refer to Terms of Use and License and Permitted Use for clarification.
AUTO PARTS STORE STARTUP FINANCIAL MODEL KEY FEATURES
Video tutorial:
Generate growth inspiration
By running various scenarios and looking at the effects they could have on your cash balance, you will begin to see which options are best for your business. Ones that are possible, and what is involved in making them work. Organic growth isn't the only option – there are growing funding options becoming available, and Startup Cash Flow Statement could be a way of looking at the impact an injection of cash could have on your business and its growth plans.
Get it Right the First Time
Funding is a binary event: either you succeed or you fail. If you fail, most investors won't give you a second chance. Learn about the pros and cons with Auto Parts Store Five Year Financial Projection Template.
Manage surplus cash
Most companies don't have excess cash in the bank. It is a well-known situation. But managing surplus cash for reinvestment in new market opportunities, or debt repayments can be essential to keeping stay in the business. Managers are entirely ready to plan for what to do with the cash surplus if they have the forecast of when and where the business will have surplus cash in the bank account. Cash Flow Statement will provide supplementary guidance on what to do with a cash surplus.
Key Metrics Analysis
Creates 5-year Auto Parts Store Budget Spreadsheet, proforma, financial statements, and financial ratios in GAAP or IFRS formats on the fly.
Easy to follow
Clear and transparent Auto Parts Store Startup Financial Model structure (15+ separate tabs, each focusing on a specific planning category, colour coded => input, calculation and report sheets).
Currency for inputs and denomination
In Financial Model Excel Template define any currency code or symbol and preferred denomination (e.g. 000s) to reflect your preferences.
REPORTS and INPUTS
Benchmarks
A benchmarking study as the element of the Cash Flow Format In Excel is usually used to evaluate a business's performance by focusing on one or more particular indicators and comparing them with similar indicators of other companies in the industry.
In respect of the financial benchmarking study, these indicators could be profit margins, cost margins, cost per unit, productivity margins, or others. Later the company's performance indicators should be compared to that of other companies within the same industry.
Benchmarking is a useful strategic management tool, which is essential for start-ups. Companies can evaluate any economic, business, or financial metric or process and compare them to the processes of 'best practice' companies within the same field or industry.
Cash Flow KPIs
Operating cash flow. Operating cash flow calculation shows how much cash the company generates from the business operations. This calculation does not include secondary sources of revenue, like interest or investments.
All in One Place
This Auto Parts Store 3 Way Forecast Excel Template will give the entrepreneurs financial assumptions regarding costs and income that can be brought together to get the business's full picture.
Top Expenses
The Top expenses tab of the Auto Parts Store Financial Model Excel reflects your company's annual expenses, both total and grouped by four categories.
This Three Way Financial Model provides an overview of annual expenses on customer acquisition, COSS placeholders, wages & salaries, fixed and variable expenses, and all other expenses.
Financial Statements
With our Profit Loss Projection, you can easily create an projected income statement, a Balance Sheet, and a projected cash flow statement format for your company. You can choose these statements' format and make any financial statement with a monthly or annual breakdown, or for five years.
Performance KPIs
Sales growth year-to-date. Every entrepreneur wants to see the company grow month-over-month. In some industries, sales depend on the season or other external factors. The sales growth year-to-date metric shows the pace at which the company's sales revenue increases or decreases.
Users can monitor sales volumes over various periods – daily, weekly, monthly, or yearly. Sales growth metric helps to manage sales growth goals in the form of a percentage of last month's sales volume or others. If the company has several sales teams, the management can monitor this metric for each team separately. It will help to monitor better each team's achievements.
Burn and Runway
The cash burn rate is one of the tabs your future investors may be very interested in. This metrics shows the time left to a complete cash burn. Also, this template shows a cash burn ratio. The calculation is based on your average annual cash balance and average monthly operating cash outflows.
File types:
Excel – Single-User: .xlsx
Excel – Multi-User: .xlsx
Free Demo – .xlsx