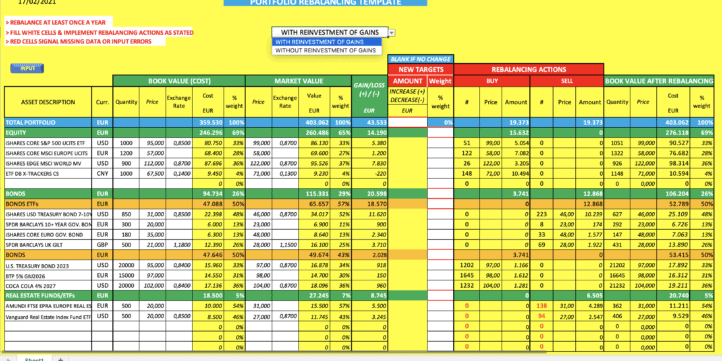 THIS TEMPLATE MAKES IT EASY TO PERFORM PORTFOLIO REBALANCING CALCULATIONS, IN ORDER TO DETERMINE QUANTITIES TO BE PURCHASED OR SOLD TO MEET SPECIFIED TARGETS.
It also allows increasing/decreasing volumes and changing % weights to the lowest level of detail. Up to 32 foreign currencies supported. It comes with sample data.
Rebalancing is the process of realigning the weightings of an asset portfolio. Rebalancing involves periodically buying or selling assets to maintain an original or desired level of asset allocation or risk. For example, say an original target asset allocation was 50% stocks and 50% bonds. If the stocks performed well during the period, it could have increased the stock weighting of the portfolio to 70% and reduced the bonds to 30%. The investor may then decide to sell some stocks and buy bonds to get the portfolio back to the original target allocation of 50/50. Rebalancing gives investors the opportunity to sell high and buy low, taking the gains from high-performing investments and reinvesting them in areas that have not yet experienced such notable growth or that are generating losses. Rebalancing is highly recommended at least once a year, but not too often, to keep your transaction costs down.