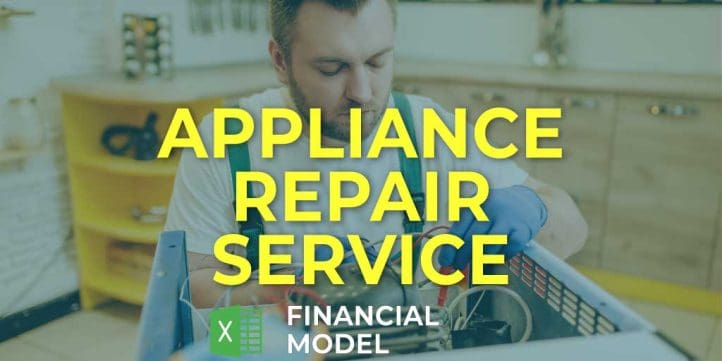 APPLIANCE REPAIR SERVICE 3 WAY FORECAST MODEL KEY FEATURES
Video tutorial:
Get a Robust, Powerful and Flexible Financial Model
This well-tested, robust and powerful Appliance Repair Service 3 Way Financial Model is your solid foundation to plan a business model. Advanced users are free to expand and tailor all sheets as desired, to handle specific requirements or to get into greater detail.
Easy to follow
Clear and transparent Appliance Repair Service Startup Financial Model structure (15+ separate tabs, each focusing on a specific planning category, colour coded => input, calculation and report sheets).
Simple and Incredibly Practical
Simple-to-use yet very sophisticated Appliance Repair Service Financial Projection Excel. Whatever size and stage of development your business is, with minimal planning experience and very basic knowledge of Excel you can get complete and reliable results.
Track your spending and staying within budget
Have you written a vague idea of cash inflows and cash outflows on the back of a napkin? All is well and good. Looking at the p&l projection will give you a snapshot of the past business performance, but it won't show the future in terms of the Cash Flow Statement Projection. With a cash flow statement projection, you can plan future cash inflows and cash outflows and compare it to the budget, which can be invaluable information.
Investors ready
Print ready (including a profit and loss statement proforma, a Cash Flow Forecast, a balance sheet, and a complete set of financial ratios).
Build your plan and pitch for funding
Impress bankers and investors with a proven, strategic Appliance Repair Service Startup Financial Model that impresses every time.
REPORTS and INPUTS
Benchmarks
A benchmarking study as the element of the Excel Pro Forma Template is usually used to evaluate a business's performance by focusing on one or more particular indicators and comparing them with similar indicators of other companies in the industry.
In respect of the financial benchmarking study, these indicators could be profit margins, cost margins, cost per unit, productivity margins, or others. Later the company's performance indicators should be compared to that of other companies within the same industry.
Benchmarking is a useful strategic management tool, which is essential for start-ups. Companies can evaluate any economic, business, or financial metric or process and compare them to the processes of 'best practice' companies within the same field or industry.
Top Revenue
The Top revenue tab in the Three Statement Financial Model Template shows off the financial information regarding each of your offerings. In particular, with the help of this Appliance Repair Service Financial Projection Excel, you can obtain an annual breakdown of your revenue streams, including the revenue depth and revenue bridge.
Loan opt-in
A loan amortization schedule template reflects the company's schedule to which it repays its loans.
Our Appliance Repair Service Pro Forma Projection has a loan amortization schedule with pre-built formulas that shows the amount of each installment and much principal and interest the company should repay each month, quarter, or year.
Operational KPIs
Our Appliance Repair Service Cashflow Projection has various operational performance graphs that will help business owners manage their business' finances and measure their overall performance. These operational performance graphs also help in making wise business decisions that consider the company's financial capability.
The financial graphs in this Appliance Repair Service Financial Model In Excel Template help measure the company's financial health showing the operating cash flows' analysis, return on investment, debt to equity ratio, liquidity ratios, and other relevant financial information. Business owners can use these operational performance graphs both for internal and external purposes.
In particular, they can use these graphs to assess the company's overall financial performance or for the assessment of the project's financial feasibility. Such an approach will improve the financial management efficiency of the company. Business owners can also use these charts and graphs for the presentations for potential investors and bankers. The operational performance graphs have all the necessary pre-built formulas, and they are fully formatted. So, the users can just print out them and bring for the meeting with investors.
Top Expenses
It is very important for a start-up and existing company to monitor, plan, and manage its costs and expenses to maintain a good profitability level.
For this purpose, it is necessary to analyze the highest costs and always work on their optimization. In our 3 Way Forecast Excel Template we have created a Top expense report helps users with this task. It summarizes the four biggest expense categories and the rest of the expenses as the 'other', so the users can easily monitor these expenses and track the tendencies related to their increase or decrease from year to year.
Sources and Uses
The sources and uses statement presented in this Appliance Repair Service Financial Projection Excel show where a company is making money and spending those funds.
Costs
Start-up costs are an essential part of any 3 Way Financial Model Template. They begin to accrue before actual operations start, so it is crucial to monitor them early to avoid overspendings and underfunding. Our Appliance Repair Service Pro Forma has the proforma for start-up costs that show both funding and expenses. You can use this proforma to monitor your expenses and create cost budgets.