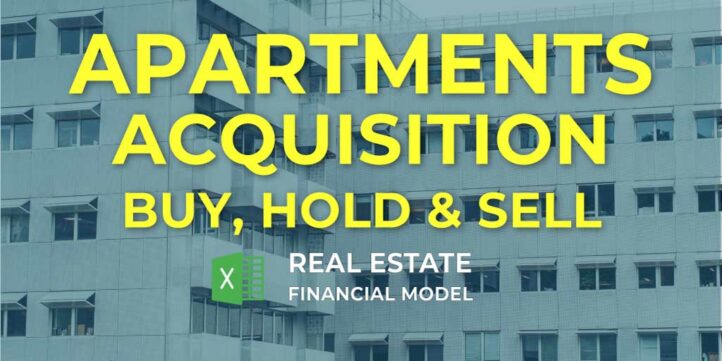 Financial Model, Real Estate, Residential Properties
10-year financial projections, Cap Rate (Capitalization Rate), Cash Flow Projections, Cash on Cash Yield, Cash-on-Cash Multiple, Dashboard, DCF Model, Debt Schedule, Dividends, Financial Feasibility, Financial Model, Financial Modeling, Financial Planning, Financial Projection, Financial Projections, Financial Statements, Investment Multiple, Investor Cash Flows, Investors, IRR (Internal Rate of Return), Private Equity Waterfall Distribution Models, Pro-Forma, Property Valuation, Real Estate Valuation, Terminal Value, Uses and Sources of Funds, Valuation, Venture Capital, WACC (Weighted Average Cost of Capital)
NOTE: Single-User pertains to a limited Single User License where the template can only be used by one single user; while Multi-User is a license for users sharing the template with up to 20 members. Please refer to Terms of Use and License and Permitted Use for clarification.
APARTMENTS ACQUISITION REFM FINANCIAL PROJECTION TEMPLATE KEY FEATURES
Video tutorial:
Prove You Can Pay Back the Loan You Requested
When you apply for a business loan, bankers will study your Projected Cashflow Statement in an attempt to answer this question: Can this business pay back the loan? Requesting a loan without showing your Pro Forma Cash Flow Projection for paying it back is a common way to land in the rejection pile. It is exceptionally accurate if your current cash flow won't cover all of your monthly operating expenses — plus your loan payment. Don't fall into this kind of situation. Use Cash Flow Statement Proforma to strengthen your case by showing the banker exactly how you plan to use the loan and when you will start repaying the debt. This type of forecasting helps you create a road map that can impress a lender with the confidence they need to approve your loan.
Identify cash gaps and surpluses before they happen.
Forecasting your future cash balance helps you see well in advance when you may have a cash deficit that could hurt your business. Cash Flow Statement Proforma will give you enough time to take action to prevent a crisis. It will enable you to access better loan rates or speed up incoming payment to bridge the gap. On the other side, if you know ahead of time that the large lump of cash will lay in your bank account within the next three months. In this case, you might need to explore options to reinvest it in your business to drive growth.
Graphical visualization in a convenient dashboard all in one
All necessary reports and calculations, including variable data for your easement, are displayed on a convenient 3 Way Financial Model dashboard tab. You do not need to move between sheets to compare important data – everything is visible immediately.
Convince investors and lenders
Enhance your pitches and impress potential financiers with a 3 Way Forecast Excel Template delivering the right information and expected financial and operational metrics. Facilitate your negotiations with investors for successful funding. Raise money more quickly and refocus on your core business.
Predict the Influence of Upcoming Changes
Does your company plan to purchase new equipment or to launch a new product? Statement Of Cash Flows enable you to obtain a complete picture of the effect that specific changes will have on your Cash Flow Statement Proforma. When planning your finances in the Cash Flow Statement Projection, you will forecast cash inflows and outflows based on future invoices, bills due, and payroll. You can then create multiple 'what if' scenarios, such as buying new equipment to choose the best way for you. Forecasting shows you how the upcoming changes will affect your cash balance.
Save time and money
Via Financial Model Excel Spreadsheet you can without effort and special education get all the necessary calculations and you will not need to spend money on expensive financial consultants. Your task is building a strategy, evolution, and creativity, and we have already done the routine calculations instead of you.
REPORTS and INPUTS
Dashboard
Our Pro Forma Template Excel has an all-in-one dashboard. This dashboard is a useful financial planning tool that helps financial professionals create fast, reliable, and transparent financial reports to the management and other company's stakeholders.
With this financial dashboard's help, users can assess the company's financial data, drill into financial details, or validate figures fast and easy. Our specialists understand that the company's financial management, especially the start-up's management, is under pressure to deliver fast decisions and results. This all-in-one financial dashboard is an effective financial tool that will help with these tasks.
With this dashboard, you will get data at your fingertips. You will be able to perform financial analysis, assess key performance indicators (KPIs), and other financial information you may need to generate actionable insights and make wise financial decisions.
All in One Place
Our integrated Apartments Acquisition REFM Financial Projection Template includes and connects everything you need for investors' meeting. It has financial assumptions, proformas, calculations, cash flow forecasts, and other templates. Moreover, our Excel Pro Forma presents it in an investor-friendly way.
Cap Table
The capitalization table helps business owners to calculate shareholder's ownership dilution. The Cap table in our Apartments Acquisition REFM Pro Forma has four rounds of funding, and users can apply all of them or one or two rounds for their financial projections.
Top Expenses
This Apartments Acquisition REFM Three Statement Financial Model Template has a Top expenses tab that displays your company's four most significant expense categories and the rest of the expenses as the 'other'.
Top Revenue
When the company's management starts to make a Five Year Financial Projection Template, revenue is the most crucial component in the 3 Way Financial Model. Revenue is one of the main drivers of the enterprise's value in the Cashflow Projection. That is why financial analysts must pay special attention to the planning and devising the best strategy to approach modeling future revenue streams.
Revenue forecasts should also have assumptions about the growth rate based on historical financial data. Users can find all the components of wise financial planning of the revenue streams in our Apartments Acquisition REFM Financial Projection Template Excel.
Cash Flow KPIs
Operating cash flow. Operating cash flow calculation shows how much cash the company generates from the business operations. This calculation does not include secondary sources of revenue, like interest or investments.
CAPEX
CapEx (short for capital expenditures) is the company's expenses related to the acquisition, maintenance, or improvement of fixed assets such as property, buildings, factories, equipment, and technology. CapEx is included in the balance sheet, and it also can be reflected partially in the projected income statement and statement of cash flows.
File types:
Excel – Single-User: .xlsx
Excel – Multi-User: .xlsx
Free Demo – .xlsx