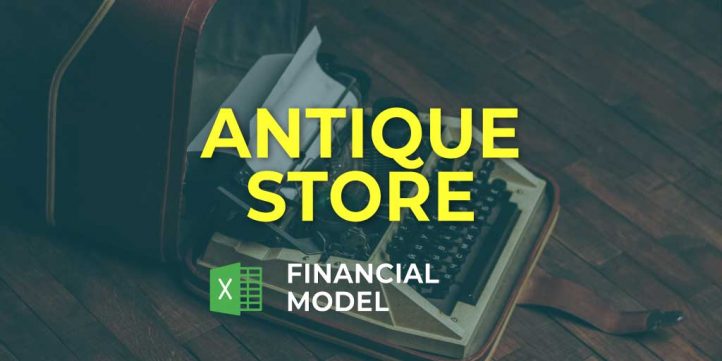 NOTE: Single-User pertains to a limited Single User License where the template can only be used by one single user; while Multi-User is a license for users sharing the template with up to 20 members. Please refer to Terms of Use and License and Permitted Use for clarification.
ANTIQUE STORE 3 WAY FORECAST EXCEL TEMPLATE KEY FEATURES
Video tutorial:
Prove You Can Pay Back the Loan You Requested
When you apply for a business loan, bankers will study your Cash Flow Statement in an attempt to answer this question: Can this business pay back the loan? Requesting a loan without showing your Cash Flow Projection for paying it back is a common way to land in the rejection pile. It is exceptionally accurate if your current cash flow won't cover all of your monthly operating expenses — plus your loan payment. Don't fall into this kind of situation. Use Startup Cash Flow Projection to strengthen your case by showing the banker exactly how you plan to use the loan and when you will start repaying the debt. This type of forecasting helps you create a road map that can impress a lender with the confidence they need to approve your loan.
Manage surplus cash
Most companies don't have excess cash in the bank. It is a well-known situation. But managing surplus cash for reinvestment in new market opportunities, or debt repayments can be essential to keeping stay in the business. Managers are entirely ready to plan for what to do with the cash surplus if they have the forecast of when and where the business will have surplus cash in the bank account. Cash Flow Projection will provide supplementary guidance on what to do with a cash surplus.
Build your plan and pitch for funding
Impress bankers and investors with a proven, strategic Antique Store Financial Model Excel that impresses every time.
Update anytime
You can easily adjust inputs at the launch stage and throughout the further activities of your business to refine your Antique Store Financial Projection Model Excel.
Build your plan and pitch for funding
Impress bankers and investors with a proven, solid antique store financial model that impresses every time.
Simple-to-use
A very sophisticated Antique Store 3 Way Financial Model Template, whatever size and stage of development your business is. Minimal previous planning experience and very basic knowledge of Excel is required: however, fully sufficient to get quick and reliable results.
REPORTS and INPUTS
CAPEX
CapEx (short for capital expenditures) is the company's expenses related to the acquisition, maintenance, or improvement of fixed assets such as property, buildings, factories, equipment, and technology. CapEx is included in the balance sheet, and it also can be reflected partially in the projected p&l statement and projected cash flow statement format.
Costs
Start-up costs are an essential part of any Startup Financial Model. They begin to accrue before actual operations start, so it is crucial to monitor them early to avoid overspendings and underfunding. Our Antique Store Three Statement Financial Model has the proforma for start-up costs that show both funding and expenses. You can use this proforma to monitor your expenses and create cost budgets.
Valuation
With our Antique Store Startup Financial Model, you will get proformas for valuation analysis. You will be able to perform a Discounted Cash Flow (DCF) valuation analysis and other valuations you may need.
Operational KPIs
Our Antique Store 3 Way Financial Model has convenient, informative, and easy-to-use operational performance graphs. Here you may visually track your company's key operational performance indicators (KPIs) in the form of charts. These operational performance graphs show the stakeholders the financial information related to the company's liquidity, revenues, expenses, cash flows, and other financial metrics. This financial information in the form of graphs will help a business owner to create presentations for banks and investors with minimum efforts.
Cash Flow KPIs
Cash balance. The cash balance shows the total amount of money in a financial account of the company. Any company needs to hold in reserve enough amount of cash to meet current obligations.
Top Revenue
The Top revenue tab in the P&L Projection shows off the financial information regarding each of your offerings. In particular, with the help of this Antique Store Financial Model Excel Template, you can obtain an annual breakdown of your revenue streams, including the revenue depth and revenue bridge.
Cap Table
3 Way Financial Model Template consist of a Capitalization Table is one of the essential spreadsheets for start-ups. It reflects the company's overall ownership structure and depicts who owns what, how much possesses, and at what value. A capitalization table shows equity shares, preferred shares, options, and stakeholders' prices for such securities.
File types:
Excel – Single-User: .xlsx
Excel – Multi-User: .xlsx
Free Demo – .xlsx